In the first part of the series I wrote about how First Round Capital is doing an amazing work with their Review site/magazines to show to every entrepreneur actual advice how to run a business, how to create it, how to launch your product, etc.
Now, I will talk about another Venture Capital powerhouse: Andreessen Horowitz, well known as a16z, focused in how they are using their skills as native storytellers to spread the word about how the firm works with founders.
Andreessen Horowitz: Software is Eating the World
This phrase is so ingrained in tech people's minds that when you hear it, you immediately know that they are talking about a16z. This highlight an important thing for founders interested to make a pitch for the firm:
Know your sh… and prepare for pressure
All general partners at a16z are founders, some with decades of experiences creating companies from start, and growing organizations from zero to millions in profits, so again: Know your stuff when you will present a pitch in front of them.
If you want good examples, you can read this article in the New Yorker, talking about how Suhail Doshi, Mixpanel's co-founder did it.
But, like I said before, this post is not focused to help you to make a pitch to them. Instead is to learn the strategy the firm is using for Content creation and distribution, and how it has worked for them.
Minimalism Design, Simple search bar and Content in One Place

a16z'site design has one objective in mind:
The interested reader can have all syndicated content in one place, grouped by topics and by author easier to find any story you are looking for.
If you see the above image, you can see the reader can select from more general topics (HR, Design, Boards, e-commerce) to more specific topics in the tech section (automation and robotics, VR, Big Data, China).
Simple but clever way to engage your readers.
Everyone at a16z contributes to the blog
Now, one of the key things people loves a16z is because everybody contributes to create great content. It's not just Marc with his tweetstorms, Ben with his amazing books; everyone talks about a problem, how certain team is solving it and the future of that industry.
I saw this, when I was writing my post about Tanium and Okta, and I found the post that Steven Sinofsky wrote about the company and why their technology was unique.
They know the power of storytelling and blogging, so they create a lot of posts talking about a lot of topics.
This is the main reason I think they invested in Medium, and many of the posts they create are syndicated from there, including the blogs of Steve and Chris.
My favorite blogs there are:
This strategy to create awesome content on the a16z's blog has worked very well for them. I put the site in the Moz's Open Site Explorer tool and the results are amazing: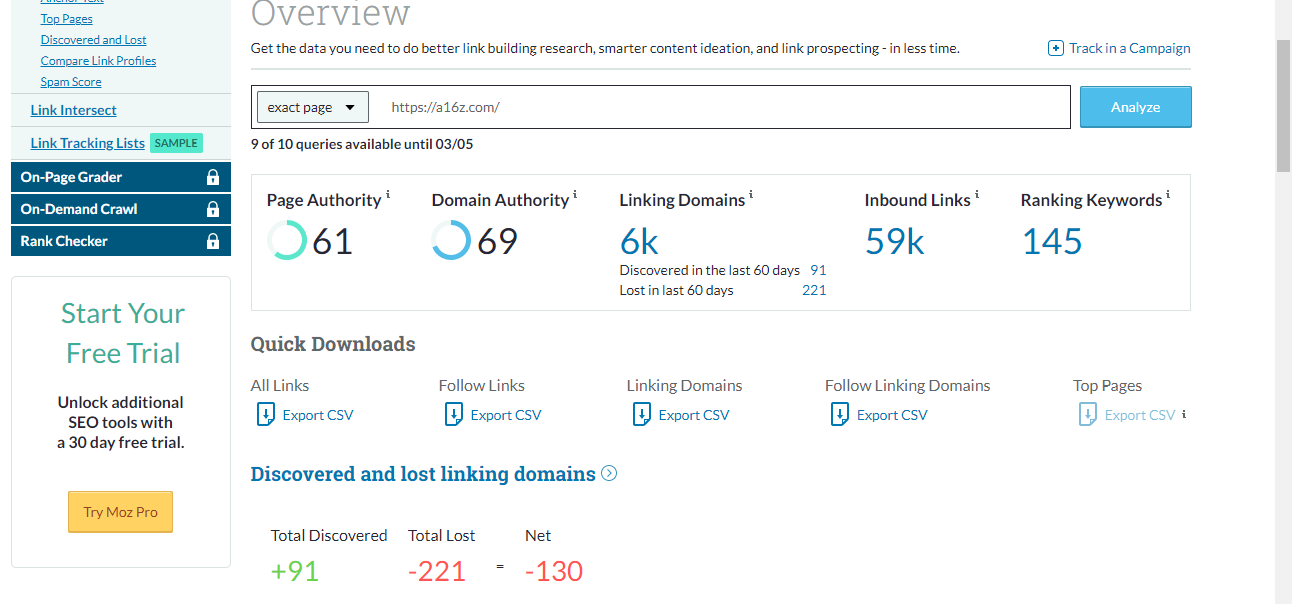 a16z's podcast: The diamond of its Content Strategy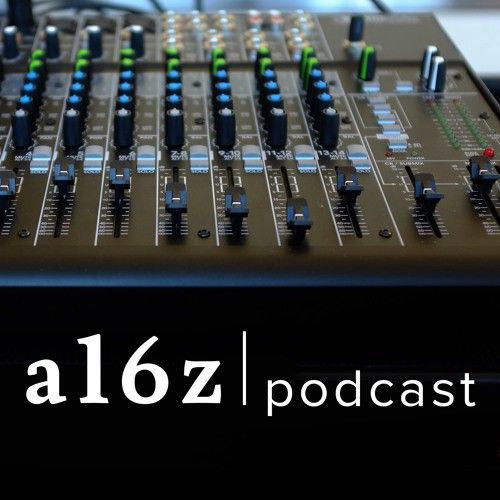 If you are in tech, it's possible that you could hear, at least one track of the a16z's podcast. If you have not done that, stop one moment here, visit the link and follow, then come back here to tell why you must listen the podcast.
If you read its description, it backs why they believe that Software is Eating the World:
The a16z Podcast discusses trends, news, and the future of a world being shaped by technology, especially as 'software eats the world'. It features industry experts, business leaders, and other interesting thinkers and voices from around the world. This podcast is produced by Andreessen Horowitz (aka "a16z"), a Silicon Valley-based venture capital firm that invests in entrepreneurs building the next great consumer and enterprise companies. Multiple podcasts are released every week and sometimes on weekends; visit a16z.com for more details.
I will try to the same thing I did when I tried to select the best stories of First Round Capital's Review. This is not an easy task, because every podcast talks about very interesting topics, so I will pick my favorite ones, based in my personal topics:
I let this last podcast for the last part, because they talked here with amazing podcasters and why it matters for a good Content Strategy.
And I'm totally agree with them on this. John Nastor talked about this at Copyblogger:
It could be argued that podcasting is not right for every business. It could also be argued that blogging is not right for all businesses. Yet, if your business takes content marketing seriously, then podcasting can be a strong component of your content strategy.
Mike Orren from Speakeasy has talked about this too, and even he launched a new podcasts'series called "The Digital CMO" to discuss interesting topics to the corporate content marketing
It seems that the strategy has paid off for a16z, because if you visit their page at SoundCloud, you will see how many people has reposted the tracks and how many of them has commented on them, and that's the beauty of it:
If you dig on its stats:
The average plays total number for tracks are between 15K and 30K
User engagement is high even after just hours to post a track. The last one is with the serial entrepreneur Max Levchin,CEO at Affirm and in just 14 hours, this track have been played 12,269 times and
It would be nice to have more time to make a detailed analysis of a16z's account using SoundCloud's API, but I don't have it. Perhaps it's a very good topic to cover in a future post: A16z's SoundCloud Analysis with R.
a16z's Newsletter: A Must-have Newsletter if you are in Tech
a16z's newsletter is an incredible compendium of great stories around Internet related to interesting topics like 3D, V.R, A.I, Big Data and more.
The last one is not an exception. My favorite stories of the last one are:
Slideshare: The last piece of the Content Strategy Puzzle
The stats behind the a16z Slideshare's account are awesome: With just 5 presentations and one video, they have generated 2,445,416 views exactly.
For example, the updated presentation about Mobile Is Eating the World, by Benedict Evans are awesome:
Views
Total Views: 346,239
On Slideshare: 146,458
Actions
Shares: 4,122
Likes: 1,371
Embeds
Total of view from Embeds: 199,781
Embeds: 207
These numbers probe the influence that the firm has in the tech world. BTW, if you are working in a Mobile platform and you haven't seen the presentation, you could miss important facts behind Mobile, so I let you the presentation here:
If you are not using Slideshare for your Content Strategy, you could lose a good source of traffic for your business.
Based in an infographic published by Column Five Media, Slideshare is the "Quiet Giant of Content Marketing".
There a lot of guides to take the maximum advantage of presentations at Slideshare, but this one from Neil Patel is amazing.
His advice is remarkable. You shoud read it.
Content Marketing Magicians at a16z: Michael Copeland & Sonal Chokshi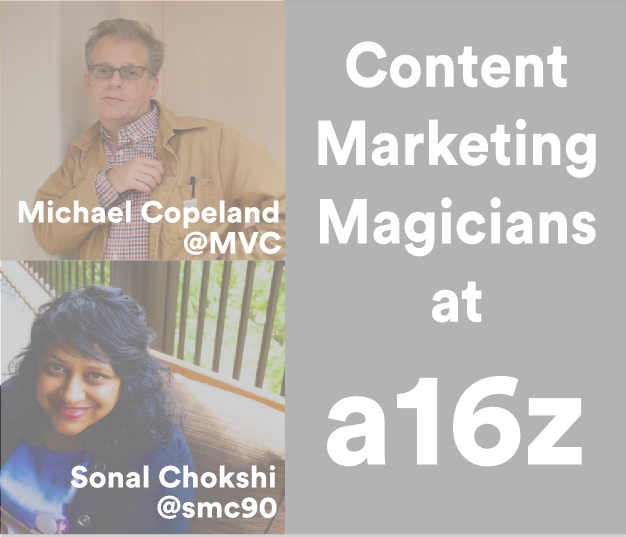 Michael and Sonal has done an incredible work: First, as hosts of the amazing podcast, selecting the right entrepreneurs and leaders to be featured on it, and second working with the firm's partners to improve their respective stories.
Both has extensive experience doing this kind of work: according to LinkedIn, Michael joined to the firm in July, 2013, when he left WIRED; and in the case of Sonal, an ex-WIRED too, she joined to the firm in April, 2014.
At WIRED, she was the founder and Senior Editor of WIRED's Opinion. So, the firm invested on them, giving the right resources to dream about the a16z' Content Strategy, and I think they are doing an amazing work.
Lessons learned from a16z's Content Strategy
The strategy that a16z is using to spread the word about how they are helping entrepreneurs to build real global companies that last, can be described with one word: WOW !!! But the lessons here more simple that you think:
Everything start with a good story, the secret is how to tell it to the world
It doesn't matter if you are using Slideshare, or if you want to create a podcast; if you don't improve your Storytelling, you are doing all wrong.
You don't have a VC firm to invest on this, everything start with you.
Subscribe to my Medium posts
Enter your email below to recieve automatic updates.powered.by.rabbut.com