We are in the middle of a technology revolution when new things come to light everyday. In the Advertising world, we are thinking how Virtual Reality and Internet of Things could change the way how we do Marketing these days.
But, there is a medium that have proved until this date that it's very effective and it seems it doesn't lose this effectiveness in the upcoming years: Email.

According to Email Stat Center email is the Marketing form with the highest Return on Investment: for every 1 spent USD you obtain $44.25 USD in revenue.
This is huge, so like I said before Email marketing will keep being a very good way to engage even more your current customers, and to delight the prospective ones.
But there is one problem with Email: everyday we receive more and more Email messages in our inboxes, and to be fair, we delete or ignore the majority of these messages.
So, Marketing professionals has a very daunting task ahead: make sure that every of these messages will be engaging, relevant and highly personalized and not to finish in the trash folder.
Now, you are asking to yourself: How I could do that? How I make my emails more engaging? How I can increase my Email Open rate metric?
Well, there are other Marketing areas that are using one science to have a better influence in their respective customers: Psychology, so Why we can't use it to improve our Email Marketing?
So, I will let you 5 Psychology Principles to improve your Email marketing by 400%, with some of the best examples I found about it.
Principle # 1: Choice Paradox: A lot of options is Bad for Business
When people has to choose among a lot of choices, they keep paralyzed because the human being has to think and compare between two equal products, so if you increase the quantity of your products in a single message, you are not helping to your customers, instead you are provoking anxiety with the increase of options.
Barry Schwartz, on his "The Paradox of Choice" book, he defined this in a remarkable way:
Having too much to choose from actually creates high levels of stress and anxiety.
So, as Email Marketers, we need to limit the products we show in our messages. Now, to find the right number of products is hard, so you could use Advanced Analytics to find the right balance.
With the right combination, let's say Litmus + ConvertKit, you could test all this.
Example # 1: Converse, with its "Made By You" campaign, they made "Personalized" even more personal like you can see in the image: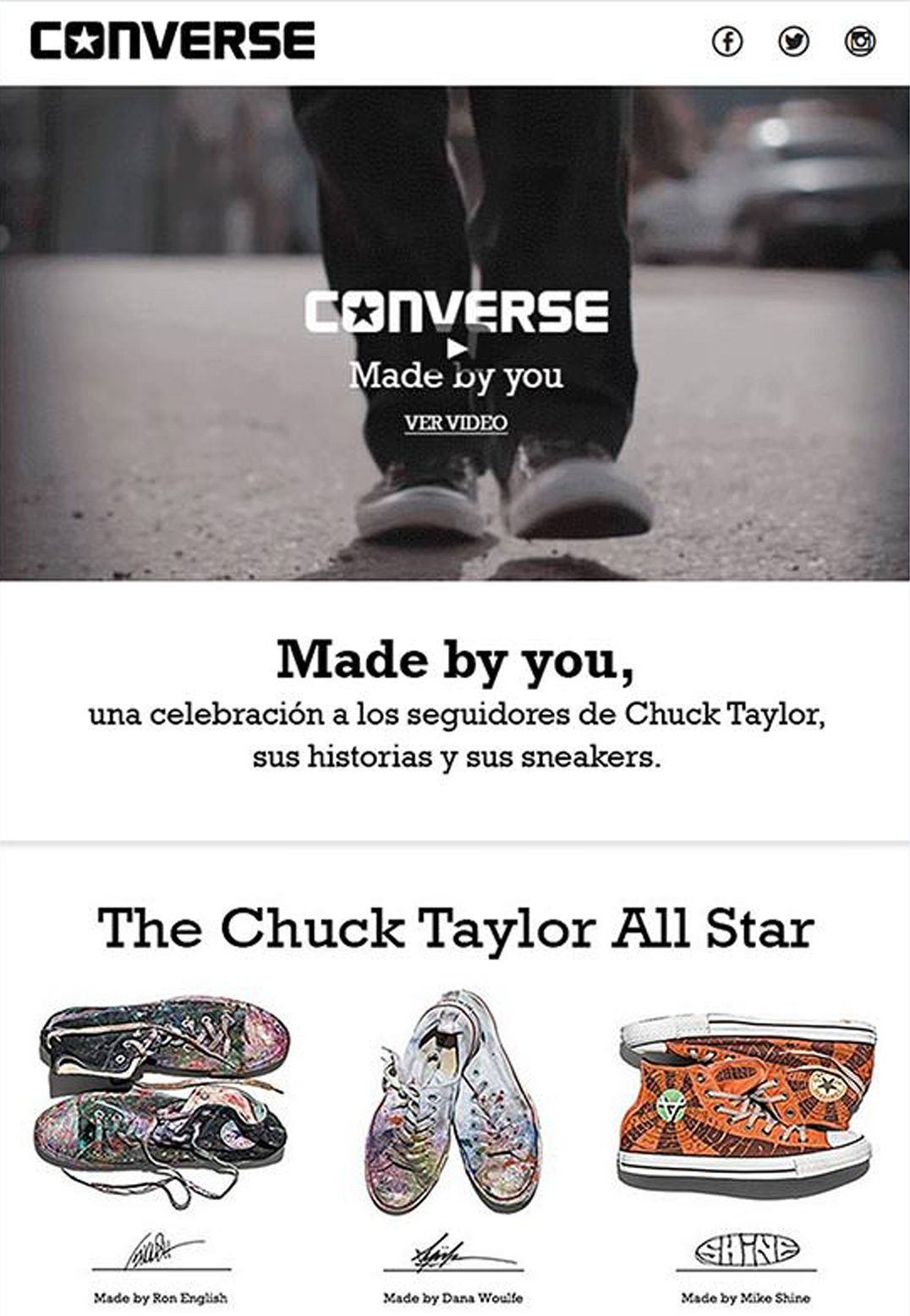 As you can see here, they just put 3 products in their message, limiting the number of choices, and making the decision to purchase even easier.
These are two very good examples how knowing this principle, could help you to increase sales through email.
Principle # 2 Anchoring Bias: Organize the products from the most expensive to the cheaper from left to right
Many research papers have probed that people tend to read from left to right when they want to compare products.
So, if you place your most expensive product in the left, this product will be used as price anchor, which could be beneficial to influence the decisions of your subscribers for other products in the same category but a little cheaper.
Example # 2: Nau Clothing has mastered this with its "Hit the Lights" campaign, when they placed the new sunglasses from the most expensive (Canby Wood) to the cheaper (Francis)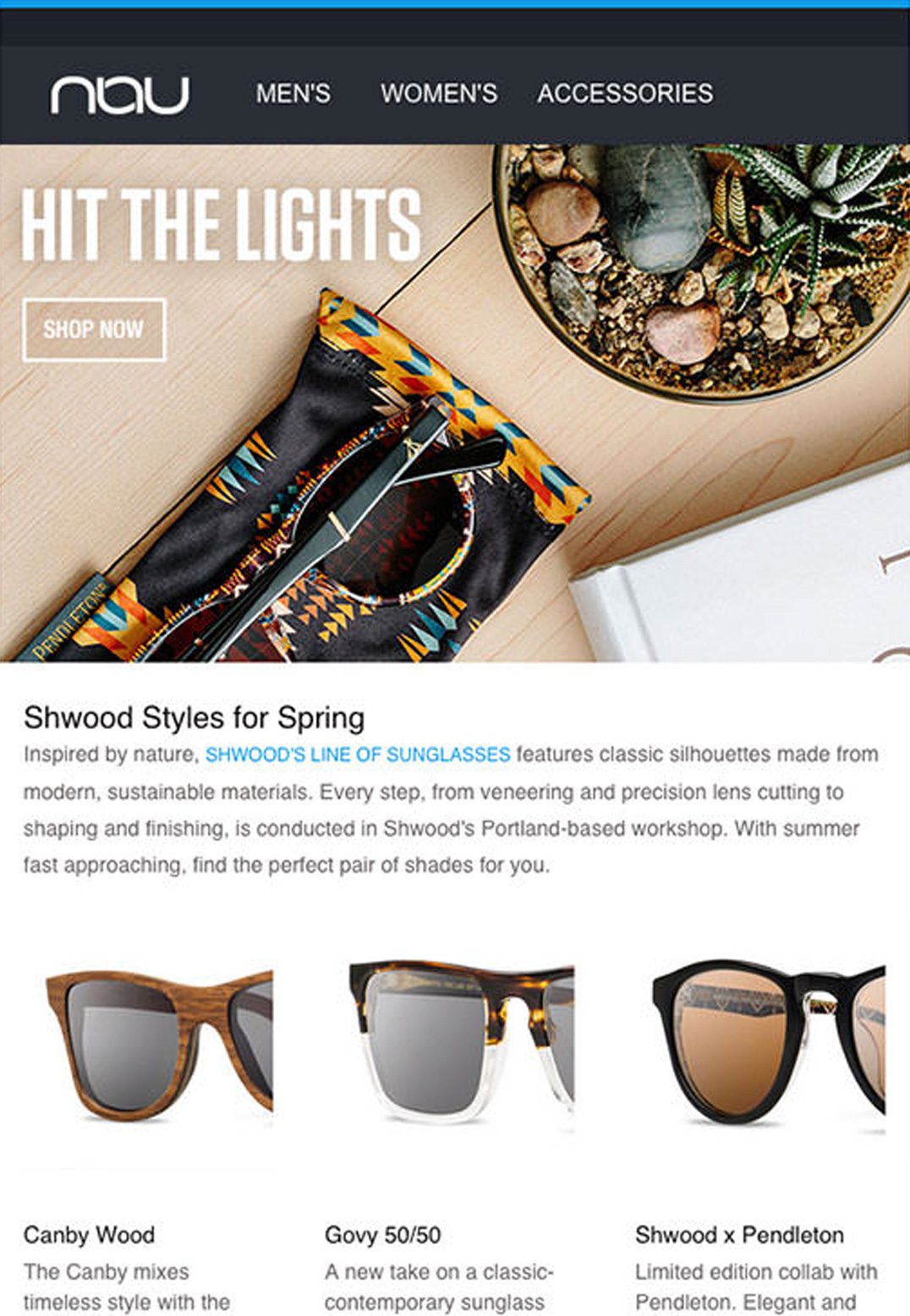 Principle # 3 Centre-Stage Effect: Position your best Product in the Middle
When people are looking a group of equal products, or of the same category, they tend to go for the product in the middle.
This principle is called Centre-Stage Effect.
So, think seriously in this principle, when you are designing your emails to a new campaign, putting in the center your star product based in the right context: sex, purchase behavior, location, etc.
Example # 3: Chromes Industries used it for their "Chrome Reflective Gear" campaign:
Did you know why Chrome Industries put this orange bag in the middle? Because two reasons: they know this principle, and they know other psychology secret: The effect of Color in People's emotions (aka Color Theory), but that's a topic for other time. (P.S: If you can know more about this, Canva has a great resource for you)
Principle # 4 Social Proof: Use Peer Comparison to your favor
Social Proof is "the theory that people will adopt the beliefs or actions of a group of people they like or trust".
But, How could you take advantage of this principle for your Email Marketing?
It's very easy: just show how your product is being received by your customers, and talk about real numbers.
Example # 4: GE Technical University probed that Education matters for employees:
Principle # 5 Scarcity Effect: Incite a Sense of Urgency By Being Scarce
This principle is very powerful and it could be help you to obtain million if you know how to use it in the right way.
If you analyze it very closely, people tend to appreciate in a higher value, products that are scarce and put a lower value on those that are full of stock.
Example # 5: Fiji Airlines applied this principle when they launched a new campaign called Last Friday Bula" to promote new flights from Australia to Fiji: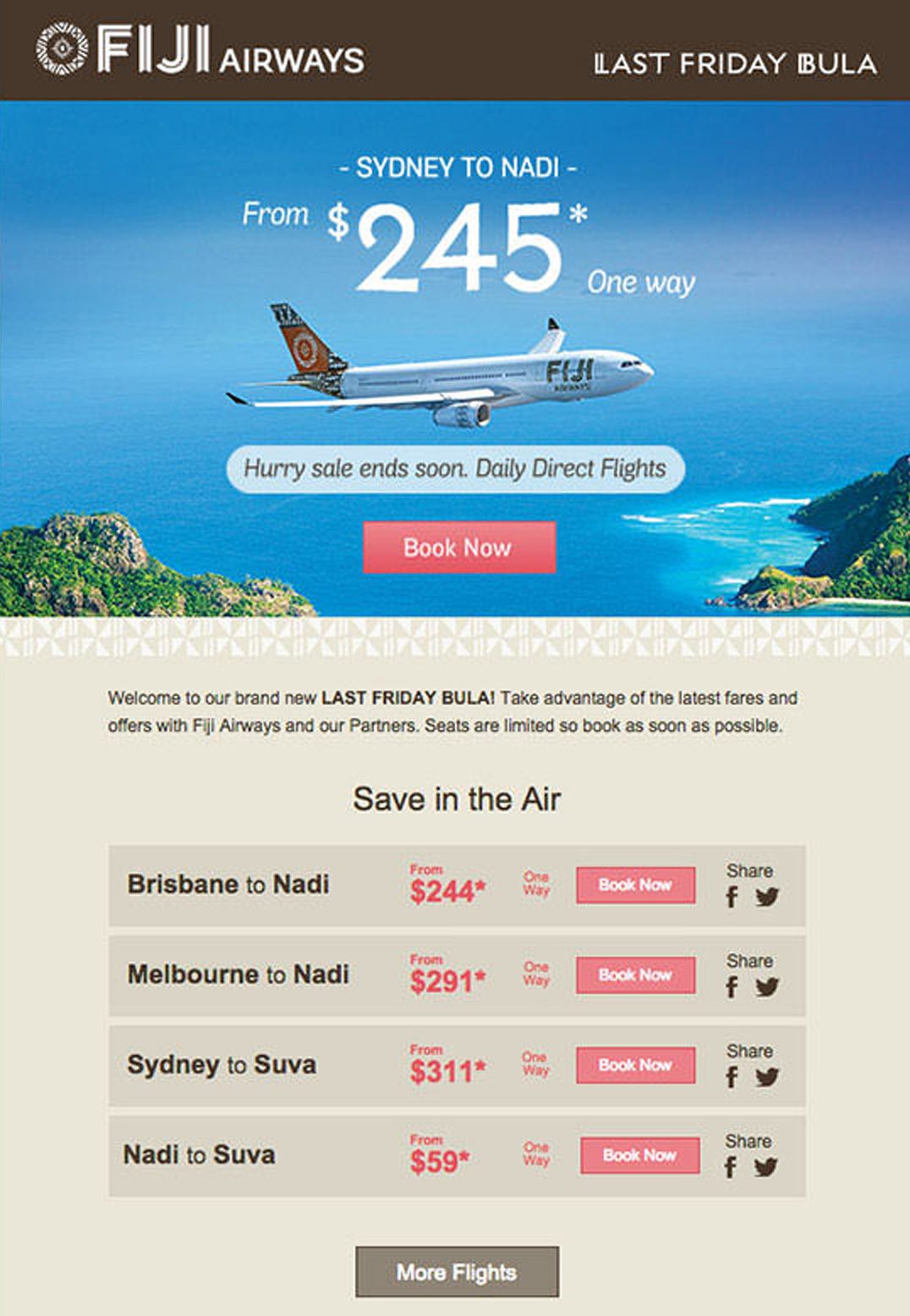 As you can see, they used the right words to influence in their customers why they needed to buy in that moment the flights.
Example # 6: Birchbox used this principle with this campaign: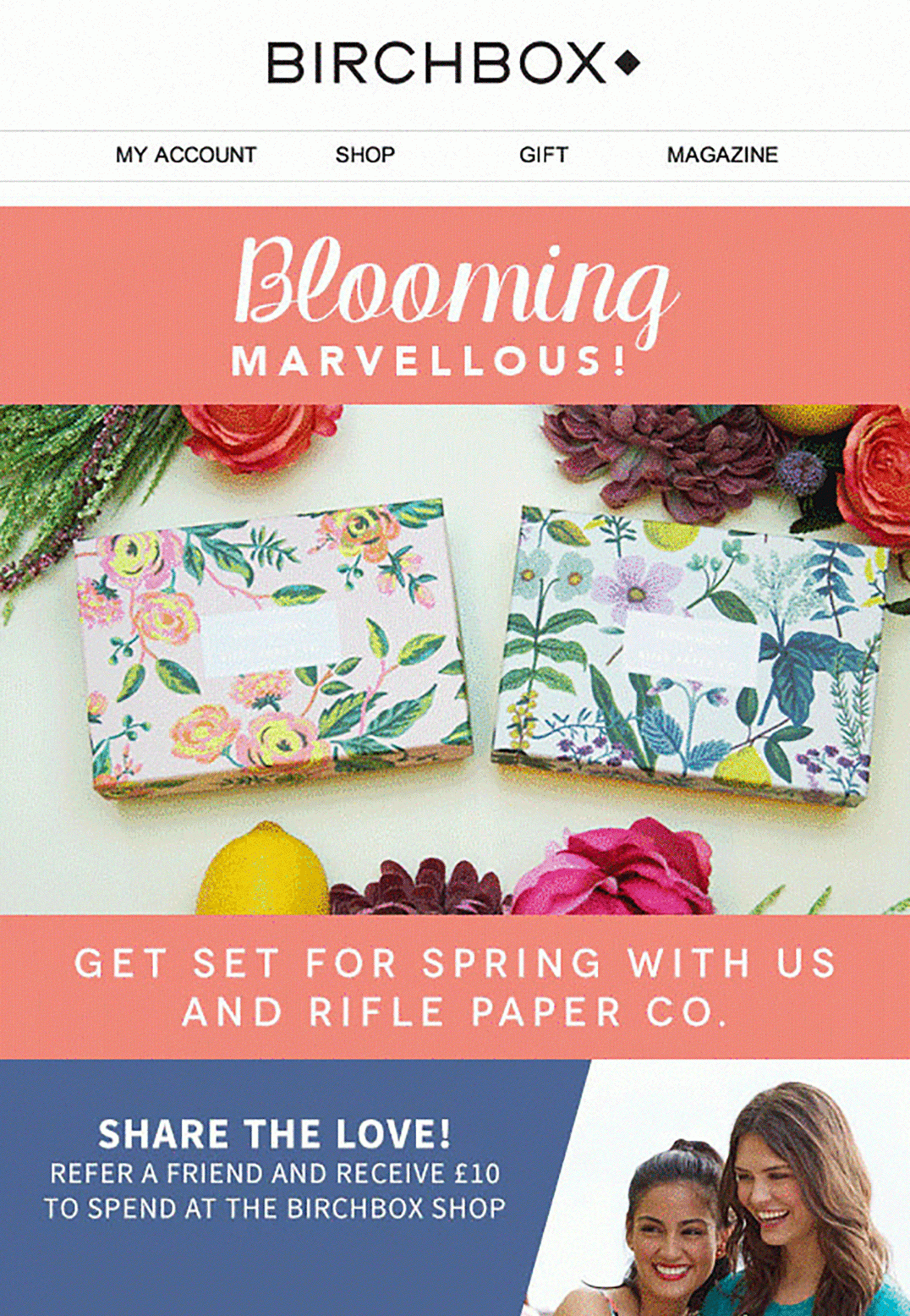 They used a combination of principles here: Scarcity Effect + Color Theory, where you can see in the middle why they used the phrase "Limited Edition" specially focused in Men, using the contrast of Blue and White to highlight that part of the message.
Conclusions
2016 is the year of Personalized Marketing, and using clever Psychology tricks; you could build an even better targeted Email Marketing strategy for your customers and subscribers.
Just imagine to combine a good Email Design with these Psychology principles: You could improve the experience of your customers with every message, and in the process, you could increase your sales dramatically through email.
Do you want to know how we are applying this for our customers?
Just sign up to ConvertKit's crew and they will be more than glad to work with you in your Email Marketing strategy.