If you follow me at Twitter(@marcosluis2186), you should read all my tweets focused on Mobile Advertising, which is becoming in a niche market today in every region of the world. EMEA, APAC, LATAM; every region of the world have seen how many new startups or well established companies are embracing "Mobile revolution", so, for advertisers and Marketing professionals, there are a lot of opportunities out there.
Real-Time Bidding (RTB) is becoming in a must-have main feature for every Advertising platform, where challenging software architectures attending more than 100,000 bids per second in combination with smart algorithms based on Predictive Analytics, Data Mining and Machine Learning, are trying to deliver the right bid for the right user in the right time.
Every company is looking for the best opportunities for RTB, and one of the key players on it is, of course: Facebook Exchange platform, where you have the chance in User Retargeting for more than 850 millions of users, and with the strong commitment of the company to invest in Mobile; they are just beginning in this journey. If you want to know more about this, just read a recent report from eMarketer.
I made a list of my favorite companies in this rush market, organized by region. I will focused on EMEA, APAC and North America. Keep reading.
North America
I love what these guys are doing. With its AirDSP platform, they are helping to brands to create engaging Mobile-based marketing campaigns focused on 8 Ad formats like Push Ad, Icon Ad, etc. But, with the recent acquisition of Hubbl, a leader in Mobile Native Advertising ; they are focused to become in a truly global company. Here I let you a picture of the AirDSP's Dashboard: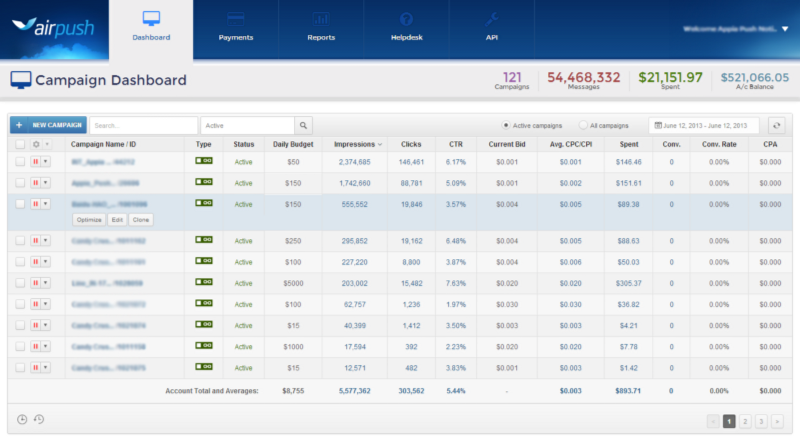 This is another of the strongest players in the market, because they have a strong integration with Facebook Exchange platform, with have proved that many clients have obtain a higher CTR when they use the platform, so, this is huge and AdRoll is a leader on this.
But a key reason why I love this company, is the technology behind its Retargeting platform: Python, my favorite programming language.
Yes, you read well: PYTHON. In the last San Francisco Python Meetup, Ville Tuulos, Principle Engineer at AdRoll gave an amazing technical talk about how the company is analyzing billions of records wit Python. You can see it here:
EMEA
With more than 70,000 Mobile apps, ads operations in more than 230 countries, three offices around the globe (San Francisco, Hamburg, and Singapore), integration with more than 90 Ad networks and 100 DSP networks; Smaato is a strong competitor in this space. If you read its Solutions section, you will embrace why I made this decision. I put to this company like a leader in the EMEA market, but if you read its free whitepapers, you will see that they are everywhere, and they are making a great move focusing in the APAC market too. Two of my favorites are:
APAC
APAC is one of promising regions in Mobile Advertising for its massive growt in Mobile devices usage around all countries. I will share with you some key facts about APAC:
In 2011, Asia Pacific was said to be churning US$22.4 billion digitally in ad spend, coming up third in the worldwide market. Fast forward to 2013, North America is still maintaining its first place spot, while Asia Pacific has climbed up to second place with US$33.76 billion spent in digital advertising.
by E27.co
In Southest Asia smartphone and tablet penetration have been said to hit 63% in 2013"
In 1996, two-thirds of the world's internet population was in the United States. Today, 40 percent of the online audience is in Asia Pacific, making it the largest internet region.
by Enrico Verhulst, VP Technical Account Management at comScore Inc.
So, you can see why every company, not just in the Digital Advertising industry; wants to invest heavily in the region. 
Note: You must every comScore's report about APAC region. Here's the link.
Brandscreen is a leader in the APAC region because for its strong integration with a large networks of partners like Facebook Exchange, Google's Doubleclick, AppNexus, Baidu, PubMatic, The Rubicon Project, Bluekai, eXelate, OpenX and many more.
The company was founded in 2006 by Julian Tol (former CEO and current Executive Director at Brandscreen) and Seth Yates (CTO at Brandscreen and OpenRTB PMC member), and they have attracted a great group of customers for its great product called CORTEX, where you could use any of these DSP networks to launch a Marketing campaign. In an article published by the Wall Street Journal in 2011, about the 11 million Australian dollars (US$11.2 million) Series B funding by Macquarie Capital, SingTel & Southern Cross Back, we can read two interesting facts:
The Sydney-based company already reaches 84% of the online community in the Asia Pacific region, and processes 200,000 individual advertisements a second via its real-time media trading offerings.
For a better introduction to the company, you can see Brandscreen's Slideshare profile: 
 [slideshare id=1617973&doc=3minuteintroduction-090622014348-phpapp02] 
 and to know more about Brandscreen's CORTEX product, you can see this picture: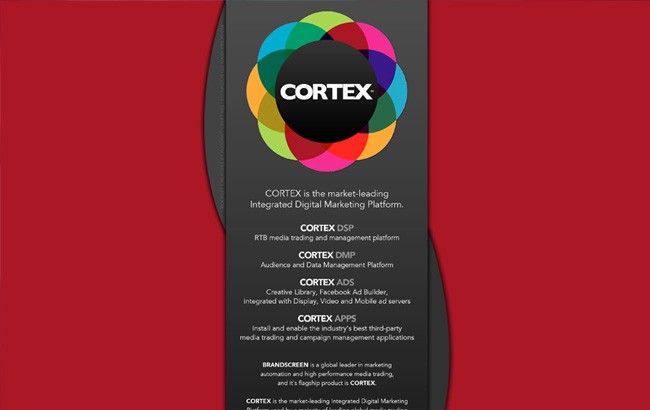 Julian is one of the most recognized persons in the APAC when you are looking for information about Advertising market, trends, Programmatic Buying and more. You can see him here in this interview by Click2View:
 [youtube=http://www.youtube.com/watch?v=WA1No4b0EjQ]
InMobi is another global company with 17 offices around the world, recognized like one of the 50 Disrupting Companies for MIT Technology Review, puts the high very high for competitors.
When you begin to read about its products like Inmobi's Ad Tracker, InMobi's SDK and the great InMobi's Studio, you see that they playing very hard for a big pie of the Mobile Advertising global revenue. Do you want to know more? Just see this talk:

Conclusions
I know, the list is very short my friends, but based in my own research, these are my winners. If you have more winners, just let a comment and I will glad to talk about it. The Digital Advertising industry is more challenging than ever, and many companies are fighting for customers, delivering great products everyday and spreading the word using clever techniques; but the advice of these companies is simple: "Work harder than your competition, embrace to your people to become advocates of the products, and make decisions based on facts and numbers; Data-Driven decisions, and you will success". Thanks a lot for reading.