The last Friday (16/09/2016), I was chatting with my CEO and other members of Product Management team about one simple but powerful idea:
"How We Could Grow our Average Revenue Per User (ARPU) per country?"
Everybody thought for a little moment (perhaps 3 minutes), and my CEO said to everyone:
"Think over the weekend about this idea, and come with a Data-Driven reason on Monday"
Basically, he was asking us to think in several ways to "hack our growth". One of the ideas we discussed was how to improve our payments. I know that if we offer more local payment options to our users at MyCasaParticular, we could dramatically solve a lot of paint points for our users, and in the long-term increase ARPU. Our main market is Europe, mainly German speaking countries, but France, Italy and United Kingdom are growing in a steady peace.
So, I began my research about how to improve payments and I found a quick solution: Adyen. But I saw one thing: you make a little search about Growth Hacking tips and none mentioned anything about payments (except few people).
Why? I don't know. So, I decided to provide a Data-Driven answer why your company must use Adyen as a Growth Hacking Tip. Grab your seat. This will be a long post.
Growth Hacking???
I believe firmly in the principles of Growth Hacking to expand a particular organization internationally.
Growth Hacking is more of a mind-set than a toolkit
That phrase used by Ryan Holiday on his brilliant presentation about the best Growth Hacking quotes have made to think several about several times about this:
I will not talk about other Growth Hacking tips here, because there are a lot of resources about this topic around the net. If you need a Growth Hacking 101, my favorite resources are:
Growth Hacking inspiration
There are many good examples and use-cases of growth hacking. Four of my favorite examples are:
Finding help on Growth Hacking Tips
If you are in a dedicated role focused on Growth (like me), you must be an active member of GrowthHackers.com crew.
Sean Ellis and his incredible team have put a lot of resources, great AMAs (don't forget to read one of the last ones with Clair Byrd, Head of Marketing and Content at InVision), amazing growth studies (these are the real sauce) and a lot of outstanding videos from the last GrowthHackers Conference 2016. My favs there?
Another good tips is to follow at Quora two boards: Growth Hacks and Growth Hacking. There, you will find a lot of great ideas to test and to work with, so don't underestimate them.
Growth Hacking Tips Focused in the Payments Part
The last week, I was reading a very interesting article written by Michael Blanding at Harvard Business Review, focused in a research conducted by Prof. Thales Teixeria (Lumry Family Associate Professor of Business Administration at Harvard Business School).
The article is called "How Uber, Airbnb, and Etsy Attracted Their First 1,000 Customers" which Michael described brilliantly how Prof. Thales deconstructed growth for all these tech juggernauts.
One of my favorite parts of the article is when Michael described the third lesson for expansion: Sequencing Is Everything:
Uber and Airbnb were also smart about how they chose to expand, picking the right cities at the right time to maximize their success.Since Uber's main competition was taxi cab companies, the startup researched which cities had the biggest discrepancy between supply and demand for taxis. They then launched during times when that demand was likely to be the highest, for example during the holidays when people tend to stay out late partying. It also ran promotions during large concerts or sporting events, when big crowds of people all needed cabs at the same time, and an individual might be more likely to take a chance on an unfamiliar company named Uber.

Yes, How do you think Uber selected the next global city to expand? They were thinking strategically and the organization that allowed to them to work in that way was: Adyen.
Other of my favorite examples of global expansion is @SurveyMonkey, the survey solutions company which is present in 190 countries. In their use-case, Ksenia Kouchnirenko, Director of Strategy and Business Development at SurveyMonkey said:
We were specifically looking for someone who could facilitate payments in the countries we needed them in, offer all the different payment methods and make sure the approval rates stacked up and were maintained — and Adyen was able to deliver on all three.
My last example of international growth with payments as an important point to be aware of, is Canva, the favorite online graphic design platform serving to millions of users around the world (including me. The image for this post is shared publicly here). In a recent Mashable's interview to Melanie Perkins (CEO and Canva's co-founder), she said:
Payments are a really important thing to have in your local currency, so that's something we're looking at and is on our roadmap," she said. Currently, all transactions are in U.S. dollars. "Now that we have the infrastructure in place, we will be able to localise a lot more quickly.
So, my little advice to the whole Canva's crew: Hey folks, you definitely you must use Adyen as your Payments Services Provider. Keep reading here; I will give you some Data-Driven reasons why.
A snapshot of Adyen on September 2016
So, I began to research about Adyen as a company, and for my surprise, when I began to read their website, I saw immediately a lot of names I'm familiar with: Spotify, Facebook, Netflix, Dropbox, Uber, Yelp, SoundCloud, Delivery Hero, Bla Bla Car, Eventbrite and more.
I was scratching my head when I read the number of transactions Adyen processed in 2015 with 100% transaction volume growth.
Adyen, the global payments technology company, today announced that it processed $50 billion in transaction volume in 2015, up from $25 billion, and achieved revenue of $350 million, a growth of more than 100 percent over 2014. The results underscore how Adyen is building on its position as the global partner of choice for international ecommerce, and is rapidly expanding its point of sale offering by connecting a new range of customers to its omnichannel payments platform
WTF? Is real this shit? $50 Billion ?? Wow. This is huge. Let me discuss quickly all Adyen's numbers with you:
Now the $1 Billion Question: Why to use Adyen as a Growth Hacking Tip?
I will give my answers using data and numbers. That's the best I have to convince you why you must use Adyen for your company in 2016.
1.Adyen supports 250 payment methods around the globe
With one single integration, you will have access to millions of shoppers around the world, wherever they pay. Let's talk about a quick example: Think for a moment you want to launch a service in Brazil (200 Million of shoppers) and China (1 Billion of shoppers) at the same time. You have two teams working in this integration and you need all things works incredibly well.
But, let me give you two insights, the first about Brazil, and the second one about China
Brazilian consumers are avid users of credit cards, with the overwhelming majority preferring credit cards for their online purchases. Alongside Visa and Mastercard, local card scheme ELO is growing in popularity. 15% prefer cash-based methods such as Boleto BancárioThree main players — UnionPay, Alipay and Tencent (which owns WeChat Pay) dominate the Chinese online payments landscape. Alipay controls about 50%, Tencent 15% and UnionPay 20%.

Quick note: If you need more insights, I strongly recommend you to read Adyen's countries guides in their website.
Both teams works separately in several things: localisation, copywriting focused in the country's tone, setting the infrastructure geo-localized and payments, right? That last part is one of the critical steps to have a strong foot in the country, and you can solve it with less of 200 lines of code on average with Adyen. Yes, with a simple code, you can access to preferred payments for Brazilians and for Chinese shoppers.
To see all payment methods supported by Adyen, you can use this link
2.It has one of the most advanced and secure payments infrastructure around the globe
Adyen has built an incredible infrastructure around the globe with four datacenters: two in United States and two in Europe. They manage their own servers and don't use any public cloud service for it. To know more about it, check this link.
Besides, they are using the best modern security practices for its infrastructure. For example, when I put the main URL in Qualy's SSLabs SSL Server test tool, the result was remarkable: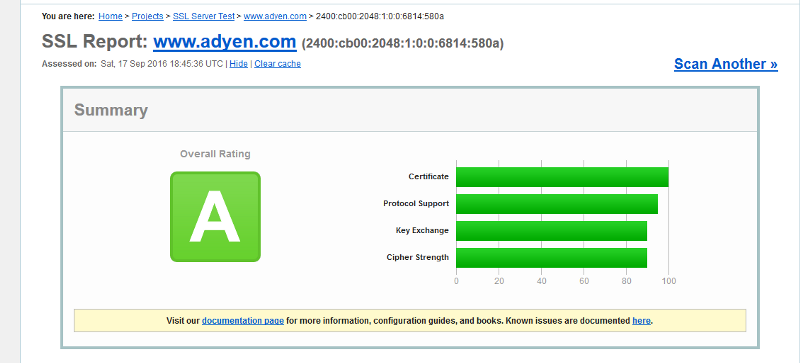 It seems they are a Cloudflare's proud customer, so I know that they working hard to protect every transaction inside its network.
So, if you need a strong partner to be in charge of your payments, think seriously to use Adyen.
3.Adyen supports modern payments methods like NFC, 3D Secure and EMV
If you analyze these features closely, you will understand that Adyen is working for a more transparent and more secure payment world.
For example, let's talk about 3D Secure, the new protocol designed to be an additional security layer online credit and debit card transactions. Adyen has studied very close the development of this protocol and its adoption around several markets like United Kingdom, Russia and India, and they concluded that the best way to implement it is using a dynamic approach.
Worried about new EMV cards? Adyen has covered that for you. They are experts in EMV because in many European markets, these cards are the standard, so if you need EMV certification, you can partner with Adyen to obtain it in matters of weeks. I strongly recommend you to read this guide from them:
4.Adyen is PCI DSS 3.2 Complaint
If you read its platform page, you will see this:
Adyen is fully PCI DSS 3.2 compliant as a Level 1 Service Provider, which is the key security standard within the payments industry.
Why this matters to you? Because this shows that Adyen could be your safe root to be complaint with this basic but so difficult requirement today for every e-commerce company. If you need to get inside this topic, you can read Adyen's post called "PCI DSS 3.2 — What you need to know", and if you are using (or not) Adyen, I strongly recommend you to read their "Adyen PCI DSS 3.2 Compliance Guide". It's a great piece of content you will enjoy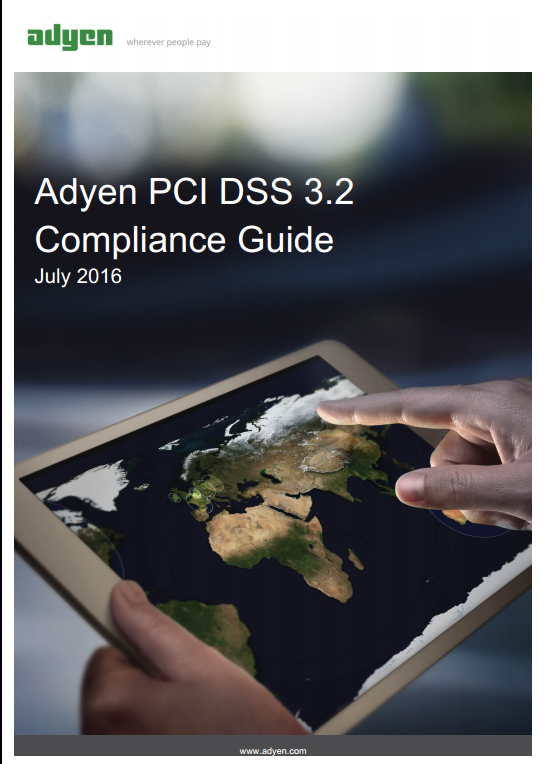 6.More than the third of global online transactions are on Mobile and with Adyen you can take advantage from that
In January 26th, 2016, Adyen published its Mobile Payments Index and its key stats was:
34% of browser-based online transactions globally are now made on a mobile device, compared to just over 30% last quarter.
Adyen supports Apple Pay, Android Pay, Alipay, and many Mobile-focused payments methods, so you just have to worry about the integration of Adyen´s SDK for Android and iOS in your app, and Adyen´s team takes the rest. Period
Particularly, with the announcement from Apple about iOS 10, now any shopper could pay with Apple Pay in the mobile web, so with the same credentials and effortless way, you can pay anything you want with an iOS10 based device.
This could have tremendous impact in the future of e-commerce, because if you see the adoption of iOS 10, despite the security issues in the second day of updates, it seems that the new operating system is growing faster than iOS 9.
In a recent post at LinkedIn called "Going beyond the keynote: Why product leaders aren't ready for iOS 10", joe xavier, VP of Engineering at Mixpanel said an interesting statement:
Should your product be iOS 10-ready right now?The great migration is upon us, and so are the all-nighters and sprints. Last year, iOS 9 eclipsed iOS 8 in just eight days, and we're betting iOS 10 will have even faster adoption
Joe and his team at Mixpanel are tracking the last trends iOS 10, so you must follow the progress here.
What Payments leaders think about Adyen
When I began to research, I saw that many Payments managers around the globe had a very strong opinion about Adyen, and how the company have helped to global dominance.
Some of these leaders are Ksenia Kouchnirenko (SurveyMonkey), Kapil Mokhat (Airbnb), Noelia Giñon ( Björn Borg), Amelie Seguret (Bla Bla Car), Kathrin Renner (Delivery Hero), Julian Bond (Hillarys), Meryem Belqziz (Uber), Johann Butting (Dropbox), Nancy Magee (Evernote), Linda Kozlowski (Etsy), Aaron Goldman (General Atlantic), (Yelp), Aydin Senkut (Felicis Ventures) and Jan Hammer (Index Ventures).
Here's the presentation:
Conclusions
I made my point here, and all this research is to talk with my CEO if we could use in a near future Adyen's infrastructure thinking in our international expansion.
We are a small organization but we are working hard to be a global success in a few years, and I strongly believe that Adyen could help us with that mission.
So, again, if you in a Growth focused role in your company, consider Adyen as you next Growth Hack, and you will delight to your CEO.
If this helps you, I encourage you to share with your peers, colleagues, family, everyone interested on this stuff; and you don't like or you don't share my opinion, let me a response here, Tweet This; I'm all ears.
If you love Pinterest, you will love this Pin:
https://www.pinterest.com/pin/21040323239078176/
Thanks for taking the time to read this, and happy Growth Hacking with Adyen.