I have to say it again: I love Medium. Three years ago, I moved my blog from WordPress to this platform, not because WordPress is bad (I still use it for many of my projects, including the website of my own company); simply because I love its simplicity, its clean design and its writing editor, which was the top reason why I did the jump.
Update September 14th, 2019: Now, this is a Ghost based blog on its own domain
I tried the platform for one month entirely before to decide to make the move my content here, and from my perspective, it's one of the best decision I made as a blogger/writer:
I've reached more people here at Medium than my entire time as a blogger (My first post was out in 2009), I've had the pleasure to chat with several of my followers, even personally; and more cool things.
So, it's time to give back. It's time to be a giver with Medium. Unfortunately, I can't pay the monthly subscription because I live in Cuba, and from here, we can't pay for anything on Internet, mainly because we can't use credit cards online (Mastercard, VISA, are you reading this?):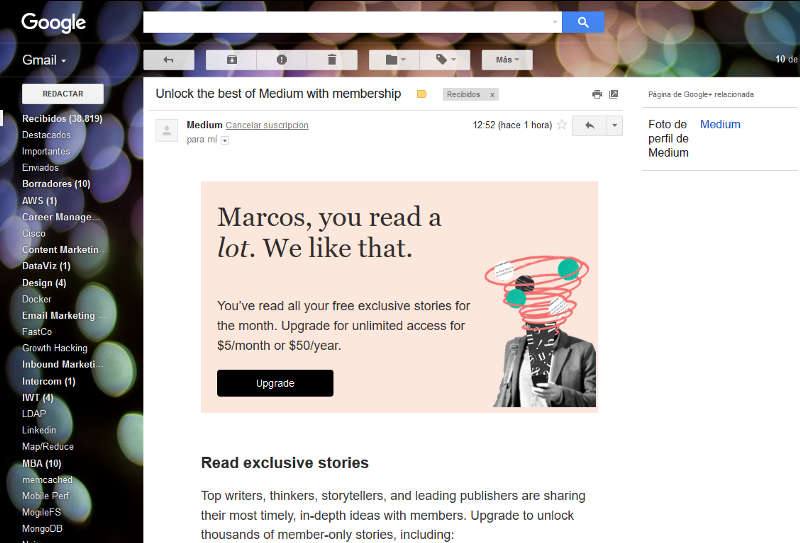 Then, I will pay back using the best way I know:
Writing ideas to improve products and platforms, and try to make them a reality with actions.
As a former Product Manager, I love to analyze problems and bring several approaches to the problem, but as a startup; the awesome Medium Staff has a lot to do. Then, I will only focus in two of these major problems.
Let's focus on two problems: Increase revenue growth and user growth
There are many issues/problems Medium is attacking today, but from my perspective revenue growth and user growth could be two of the most important aspects the company is trying to improve dramatically every day.
To help to the team, I will discuss idea by idea, and you decide if that's works for you.
If you don't like the idea, please let me know with a response; and if you like it, send me a response anyway, I would like to hear what you want to do.
Let´s start.
1. Create a program called "Medium Titans"
Based in the analogy I read in Buffer 's Medium guide written by the incredible Kevan Lee, I began to research the Monthly Active Users at Medium, and I found this article from Ken Yeung at VentureBeat, where he wrote about the 2016 Year in Review from Medium Staff:
Medium has released its end of year statistics revealing that it now sees 60 million unique monthly visitors (or readers, depending on your preference). This is a 140 percent increase from the 25 million the company said it had last year. Adoption of the publishing service appears to also be picking up, with 7.5 million posts penned, a 295 percent increase.
It seems that Medium is growing very fast, so let's assume Medium has grown to in a 80 percent since January, adding new 48 Million of Monthly Active Readers for a total of 108 Million Monthly Active Readers (MARs) right now.
Let's assume that 10% of that audience is paying the monthly subscription of $5 USD per month (10.8 Million MARs x $5 USD) which give a total of $54 Million USD in Monthly Recurring Revenue (MRR).
With these numbers, based in the number of people inside Medium's HQ, which is approximately 85 to 120 people; to reach profitability, the platform must grow to at least 25 Million paying users, which could be translated to $125 Million MRR, and $1.5 Billion in ARR to cover payroll, infrastructure costs and more operations costs:
Payroll: an average salary of $70,500 USD x 102 employees = $7,191,000 USD per year or $599,250 USD per month
Servers and Infrastructure costs: AWS (based in some Engineering roles posted in the Medium's jobs page and in the StackShare post by Dan Pupius), Intercom Enterprise Plan (just watch the email they are send you every day, and if you see the URL is via.intercom-email-200.com), Cloudflare Enterprise for Web Security and Performance, Lever for HR Jobs site, GitHub, Slack, Trello, Datadog HQ, PageDuty and more cool stuff
Note: Remember, I'm guessing these numbers, so I don't know if Medium is a profitable company or not.
From my perspective, let's assume that with $54 Million in MRR (I hope so), Medium is a highly profitable organization, but they want to keep growing.
To achieve this, Medium should engage two type of users: writers and readers.
To satisfy the first group, Medium should provide the tools and platforms to feel like home (more on this later). For the second group; the company should create a viral effect: Everyone wants to improve its writing skills and to become in a better writer every day.
If you see to your favorite author, writing on Medium as well, you want to do it too, at least in my case, or you want to read what they are sharing here.
Medium could take advantage of that and create a new program, experiment, initiative called "Medium Titans" with a single objective, playing a-la-Apple here:
A revenue-sharing initiative for serious writers.Medium Titans is a program especially designed to help to writers to create a steady monthly income using Medium's tools and platforms.
To apply for this program:
-> You must be a Medium's member
-> You must have at least 250,000 followers in a Medium-based publication,
-> and at least 50% of your stories should be locked behind the paywall
If you do this, Medium will share the generated revenue with you: 70% for you, and 30%.
Be a Titan and inspire to your tribe today.

To give you just 4 examples of my favorite writers with big audiences behind: Tony Robbins, Seth Godin, Arianna Huffington, and Adam Grant.
Let's talk about numbers here. I will pick Tony here: his total reach in all Social media platforms is almost 15 Million users:
Imagine for a moment Tony join to this program, and he and his team (Team Tony) write two or three stories every week, and let's say that at least two of those stories are locked to members.
He promotes this new initiative to his followers on all platforms, and let's say that 10% of those followers join to Medium as members: 1.5 Million users x 5 USD, which gives a total of $7.5 Million USD in MRR.
After the 70/30 split, the generated revenue would be $5.25 Million for Team Tony and $2.25 Million MRR for Medium.
Now, think about what Medium could do with 30 successful authors just in North America. This could grow exponentially revenue and users.
But about international expansion? The next idea could be critical for that.
2. Create a partnership with Adyen
Adyen could be the perfect partner for the international Medium's expansion. This company would allow Medium to support more than 250 payments methods around the globe, and they have the right tools and platforms for subscription-based apps like Medium.
You can read this guide to know more about it:
Ultimate guide to recurring & subscription payments - Adyen
Get paid like Uber, Spotify & Netflix. Download our free ultimate guide to recurring and subscription paymentswww.adyen.com
3. Create a partnership with Namecheap to sell domain names from Medium's platform
There are lot of people and organizations which are making the move to Medium these days. Many of my favorite news organizations, startups are at Medium today, and I know for sure that one of the reasons why they are doing that is because anyone can add a custom domain to a publication.
But there is a catch here: You have to get outside of Medium to obtain a domain for your publication. So, what if you make partnership with Namecheap to add a feature in the publication's creation part to actually buy the domain there?
I love Namecheap. I use it for all my projects because it's fast, reliable and cost-effective way to buy a domain today. But this is just an option.
There are several good companies who make an excellent job on this; it's just a matter of convenience and be practical on this.
Squarespace for example, took the step to do it themselves, where you can buy a domain for $20 USD per year inside the platform. It could be a good idea too: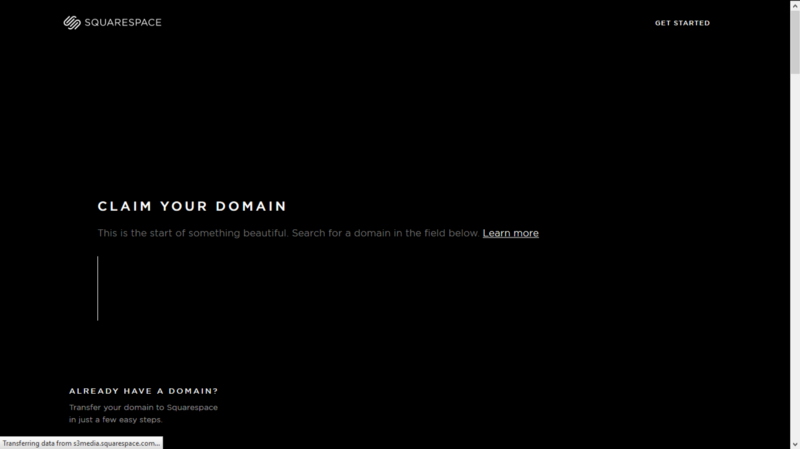 4. Work closely with Neumob to improve Mobile experience for Medium's users
If you have been following my publication for a while, you should have noted that I wrote several posts about Neumob.
If you are wondering why, the reason is very simple: we are living in a Mobile-First world, where people has made the completed shift from PCs to Mobile devices; and Neumob is one of the leading organizations helping companies around the world to improve the Mobile experience for its respective customers.
How Neumob could help Medium? Medium is a rich-content app with several third-party API calls, embedded content, and an amazing group of moving parts inside.
To able to work in a good way, Medium needs a fast connection to download all content to a Mobile device. In countries like United States, United Kingdom, Germany, Switzerland, Japan and other developed countries, this is not an issue.
But, if Medium is thinking seriously to expand internationally, I would use a quote from Jeff Kim (CEO at Neumob) in a recent debate called "Fixing the Basics: Fundamentals in Mobile" he made with Richard Wong (Partner at Accel Partners) at M1Summit conference:
You next Billion users are not in the U.S. They are in India, they are in Southeast Asia, they are in Africa, so you need to be back to Mobile-First. One of the things we like to say is: if you are thinking in Mobile-First, you have to think in Global-First. Honestly, because the next Billion users that will be your consumers and your customers are not sitting in this room, they are there
That's why I strongly believe that if Medium wants to enter in these massive markets like India, Brazil, Africa and Southeast Asia, you should work with Neumob to accomplish this.
You can know more about Neumob here.
5. Add WeChat as a login option to crack the Chinese market
These days I spent a lot of time analyzing Chinese conglomerates, creating a deep research report focused in the best Chinese businesses to invest as savvy investors, and one of those juggernauts is Tencent Holdings, which is the company behind WeChat/Weixin (the Chinese version of the app), the app known as "The Everything App" in China, because you can make almost anything inside it.
So, I think it could be a great idea to add WeChat login as an option for registration at Medium. Why? Because, WeChat/Weixin has 963 Million users, according to the last financial report of the company.
If you note that the number of Chinese Internet users today is 751 Million, according to a report from China Internet Watch; you will see the dominance of WeChat/Weixin in China.
So, it could be a good way to engage Chinese users to use Medium today, and use WeChat as a growth channel.
Examples here? From my perspective, the best example I can mention is the integration between LinkedIn and WeChat:
LinkedIn and WeChat: More Ways for You to Manage Your Professional Identity Globally On and Off of…
With 67% of LinkedIn members located outside of United States, LinkedIn has become a platform for professionals all…blog.linkedin.com
WeChat and LinkedIn Introduce New Integration - Making Business More Social | WeChat Blog…
WeChat is thrilled to announce our new integration with LinkedIn to enhance mobile social networking for our users. As…blog.wechat.com
6. Add WeChat Pay and Alipay as payments methods
This could be accomplished with the partnership with Adyen, because they support the major payments methods in China, not just WeChat Pay and Alipay, but Union Pay too, which is the largest card scheme in the world with $3.5 billion cards in circulation and $9 Billion worth of transactions.
In the case of Alipay, I would put a simple number here: 48% of all Mobile transactions in China through Alipay today, and according to a presentation made by CEO at Ant Financial Group in the 2017 Alibaba Investor Day.
Ant Financial Group (the company behind Alipay) has created a Global Digital Finance Service platform serving over 520 Million users thought Alipay and 112 Million users through local partners like Paytm (a leading Mobile wallet and e-commerce app in India), Ascend Pay, KakaoPay (South Korea), Paybang (Australia), Mynt (Philippines), Emtek (Indonesia), First Data (US), Verifone (US), Zapper (France), Concardis (Germany), Ingenico Group (France), among others.
To know more about this, you can download Adyen's China Payments Guide:
China Payment Guide
Get this exclusive report brought to you by Adyen and get insights into China, the world's largest commerce market.www.adyen.com
7. Create a Free Course on Teachable: Medium for Serious Writers
There are many tech-savvy people out here, but the majority of Internet users are not tech-savvy. And for writers and bloggers, when a new platform comes to light, they could spend a good amount of time figuring out how to explode all the features of the platform.
That gap could be closed with a free online course on top of Teachable, when the instructors would be successful Medium writers, teaching to anyone how to take advantage of Medium, and how to use all the kindness of the platform to create engaging posts and build a community inside Medium.
If I had to select the instructors here, I would pick three people for this:
Dakota Shane: He is an accomplished Medium's writer, with a lot of followers and amazing articles. He knows the power of the platform like he recently discussed with Michael Stelzner in the Social Media Marketing Podcast (If you want the transcript, you can find it here)
Srinivas Rao: He is an amazing blogger, podcaster and author who loves to share his insights here at Medium. I love his articles at the Thrive Global publication. He could be an inspiration for current and prospective Medium writers, including myself
Jon Westenberg : Joe is one of the top writers here at Medium, so like Dakota, he knows very well the ins and outs of the platform
Now Ev, you have two choices here based in the purpose of the course: You can make the course free for anyone to join Medium, or you can make it just available for Medium's members. It's up to you.
8. Create a Medium's Marketplace under apps.medium.com
There are a lot of apps and platforms which has capitalized its offerings on top of Medium. Platforms like Rabbut and Upscribe (Email list building), TopPub.xyz (a leaderboard for Medium publications) and others are great examples.
So, my idea here is very simple:
Why not to make all these apps available in one place?
Let's say: https://apps.medium.com and organize them by categories.
This could be a good implication for revenue growth if you create a kind of "Partner program" for these apps, when they could share a share of the revenue made here with Medium if they choose to be part of the app marketplace.
For example, Upscribe's premium plan is $20 USD per month.
What if they choose to add its platform to the marketplace for a $2.5/$3.5 USD per user who pick the Premium plan through the marketplace? This could increase LTV at Medium dramatically over time.
But this is just an example. There are a lot for companies and people I would love to see working with Medium Staff like Nathan Barry (ConvertKit), noah kagan (the Chief Sumo Officer at Sumo.com), Matthew Prince (Cloudflare), Clay Collins / John Tedesco (Leadpages), Brian Moran (SamCart) and many more.
This marketplace could be very useful for writers and organizations to take a full advantage of the tools they are already using for its respective online businesses.
So, to all Medium Engineering, Your Friends @ Medium, Medium Staff, Ev Williams, Jamie Talbot, Dan Pupius, Madeline Bermes, Michael Sippey, Sam Duboff, Elizabeth Barelli, Chris Fry, Pamela, tell me what do you think about this. It would be nice to see one of these ideas a reality.
Keep the hard work at Medium.