The global Mobile Advertising business is growing everyday in every country of the globe; and one trend which is becoming in critical today for advertisers is Location.
Why? the main reason for a great Marketing strategy is to select carefully your buying persona audience based in several variables like age, professional level, demographics, location, etc. Let me put an quick example: Your company wants to launch a new fitness beverage in the APAC region, focused in three countries: Singapore, Malaysia and Australia.
What I would do thinking like a Data-Driven Marketer? First, I would use good datasets from fitness apps like Jawbone's UP app, FitBit or Nike FuelBand, and I would create Real-Time maps to see the most used locations for runners in the main three cities: Singapore, Kuala Lumpur and Sydney.
These locations could be your target location to take place for your Mobile-based ad, and of course then, you should make a wise use of Analytics how your campaign is performing. This is one of the simplest examples of the things that you could achieve using location-based ads; and you should be wondering which company could help you with this. I will put here my favorite companies which are doing remarkable things in this particular space: BlisMedia, InMobi and Foursquare.

This small team with offices in U.K (HQ), Singapore and Australia have developed two main products for Location-based Advertising:
enables brands to identify and serve display advertising to consumers in close proximity to their business.
Audience targeting based on location behaviour and demographic data
With the combination of these two targeting advertising technologies would allow to small business or large companies to deliver the right ads to the right users based in location, demographics and behaviour. For example, keeping the same fitness beverage, and based in the analyzed data from fitness apps, you could match it with the right audience using BlisMedia's tech, and boost sales and brand awareness in the right locations.
And it seems that they are doing a great job because companies like Samsung, Namco, Barclays are using their technology. My favorite case study here is BMW i Concept's study (I'm a BMW addict)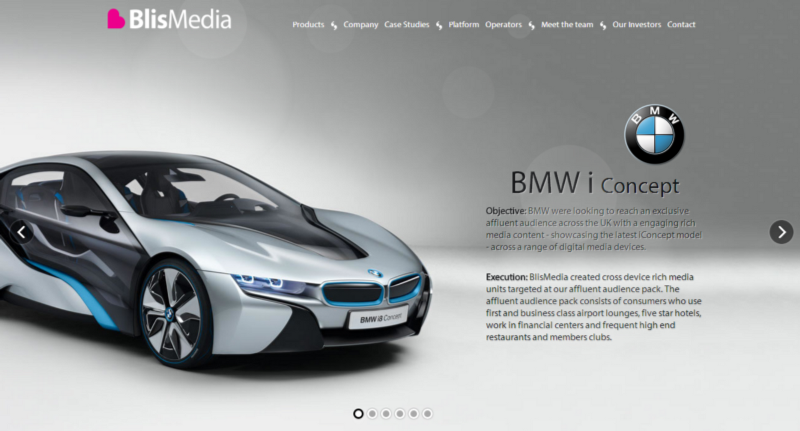 So, you should keep an eye above Gregor Isbister and his team if you want to see more innovation in this space.
InMobi

InMobi is one of my favorite companies related to Mobile Advertising. And right now, they raised the bar with SmartAds technology. They described it in this way:
InMobi SmartAds are highly responsive rich media ad formats triggered by a live or dynamic feed, such as live stock prices, news, and sports scores. SmartAds can also be customized based on real-time user context, such as location, weather, and more.
Then, Tanvi Kapoor, one of the Product Marketing Manager in the company, wrote a more detailed post about the new ads format: CustomAds and AppGalleries.
All these new ads formats has one key thing in common: Location: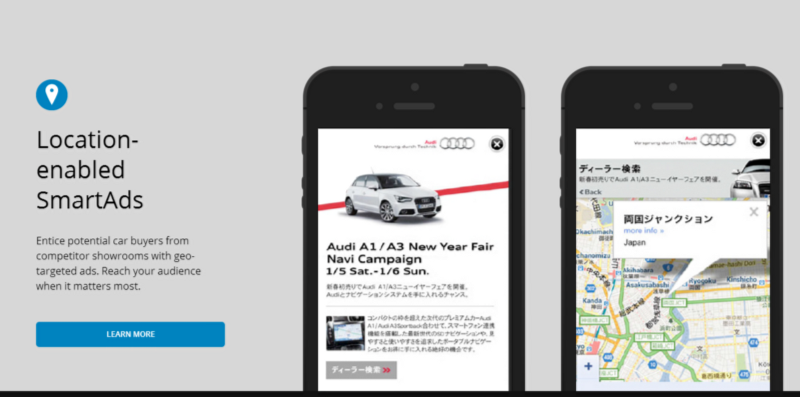 InMobi doesn't provide much information about CustomAds, but if you want to know more about AppGalleries, you can see this presentation:
I feel that InMobi has a lot to give yet, and with their global coverage with 17 offices around the world; I think that they are just embracing Amazon's motto by Jeff Bezos:
"It's just the Day One"
, but in this case for InMobi.
Foursquare

When Foursquare opened its Advertising platform for local businesses, the industry reacted very well; and small businesses seems to be very interested in this new way to promote their services. It's great to see this kind of innovation and make a real impact in people's lives. I'm a believer like Lennon, and I think that 2014 will be a very good year for Foursquare. Perhaps, we will see partnerships between these companies. Who knows !!! The year is just beginning.
Conclusions
My conclusions are simple: BlisMedia, InMobi and Foursquare will grow its location-based ads services with the increasing quantity of connected devices, not just smartphones and tablets; remember that this year will the "Year of the Connected Car", so, that's make me wonder: Will we see new ads formats targeted for car's dashboards? Who knows !!! With the new Open Handset Alliance, I think that the next Business opportunity will be there. Will we see to Google Now or Siri making voice-based recommendations to you for local businesses or stores that have location-based ads when you would be driving your car? The sky is the limit here.