There are thousands of Venture Capital firms just in the United States. This is one of the most fierce industries to be part these days; and every day you can see VC firms that go out of the market.
My aspiration one day is to be part of a top firm to help entrepreneurs out there, not to change the world; but actually to change people's lives out there.
So, I wanted to truly understand how the top Venture Capital firms are distancing from the others, and maintaining an incredible track record of investments and exits.
How these firms are arriving to the front faces of more founders every day? Simple:
They are making amazing content to be helpful as possible, even before taking about a possible investment.
The objective of these series of posts is to analyze some of the top firms in the United States, and see how they are using the "Content Spear" to gain more investment deals.
I will analyze four of my favorite Venture Capital firms out there: Emergence Capital, Andreessen Horowitz (best known as A16Z), Greylock Partners and First Round Capital.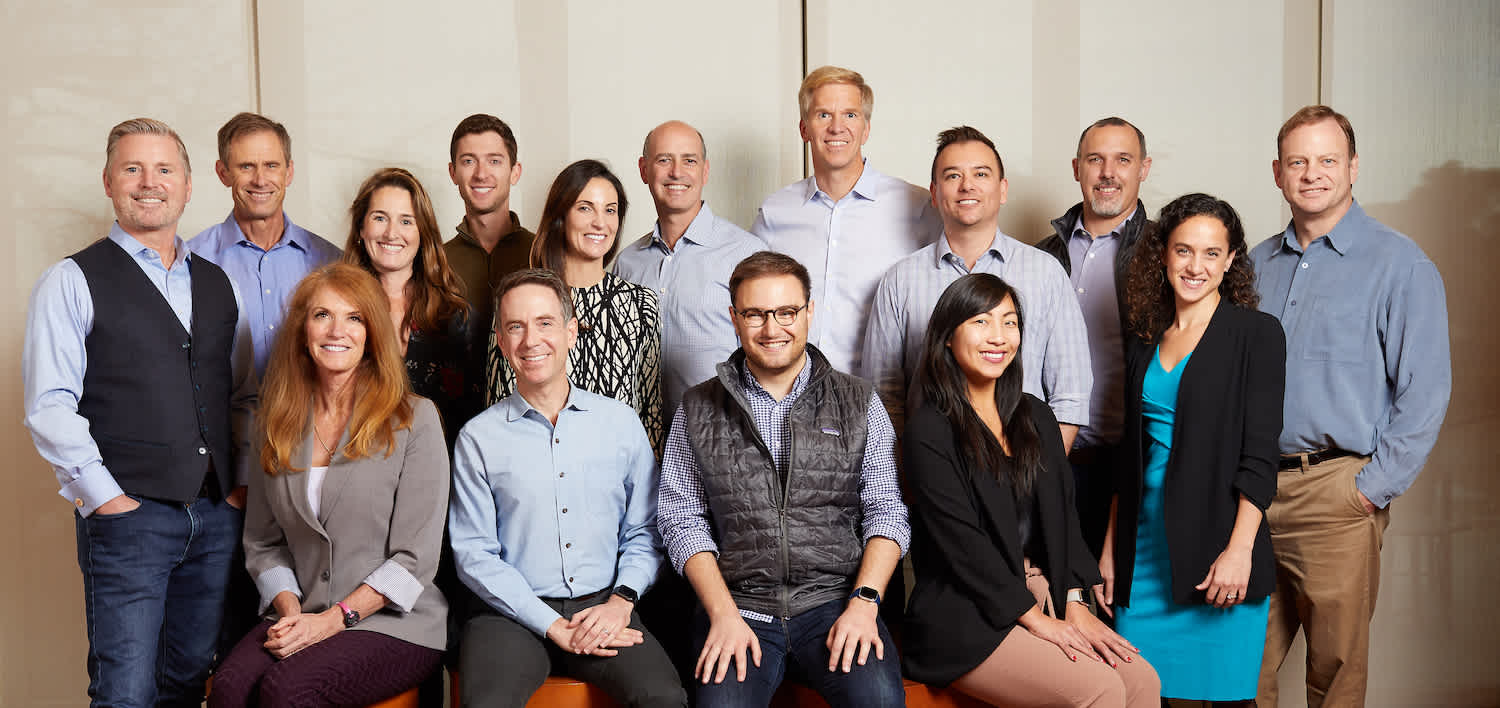 For those who don't know about this Venture Capital firm, I will make a quick profile of them here:
Emergence Capital is a thesis-driven Venture Capital firm founded by Gordon Ritter, Jason Green and Brian Jacobs in 2003.
According to Crunchbase, they have raised 6 funds, including the last one called Emergence Capital Partners Fund V where they raised a total of $435 Million in 2018.
They have invested in companies like Salesforce (CRM), Veeva Systems (VEEV) (I love this one so much I made a video on my YouTube channel), Zoom Video Communications (ZM), SalesLoft, Bill.com (BILL), Box (BOX) and many more.
Emergence Capital makes 5 to 7 investments per year, so they are very diligent in their investing approach.
That's they say in their website:
We don't make bets. We make commitments.
Emergence Capital's Golden Approach to Content Marketing
Like I wrote before, Emergence Capital is a thesis-driven investment firm. They are very focused on certain topics and industries to invest in, and when they write about these thesis, they go deep.
Right now, they are focused on 5 thesis:
You can watch this video about it:
So, they write deeply about these topics with great assesstment.
For example, this article from Gordon Ritter explains in great way what is an Industry Cloud company:
I truly believe that they are writing these articles to answer the most pressing questions for a CEO working to scale his/her company from the ground, on topics from hiring global talent, how to scale enterprise sales, how to do sales compensation, and more.
They have created several series of articles using this approach:
The last one hasn't have a tag for them, but you can find this kind of articles in their Thoughts section.
Some examples of them are:
The core idea?
Write highly targeted articles for SaaS entrepreneurs out there
Emergence Capital's Newsletter: Another Golden Opportunity to Spread the Word About their Investments
When you visit Emergence Capital's website, you can see in the bottom of every page this form: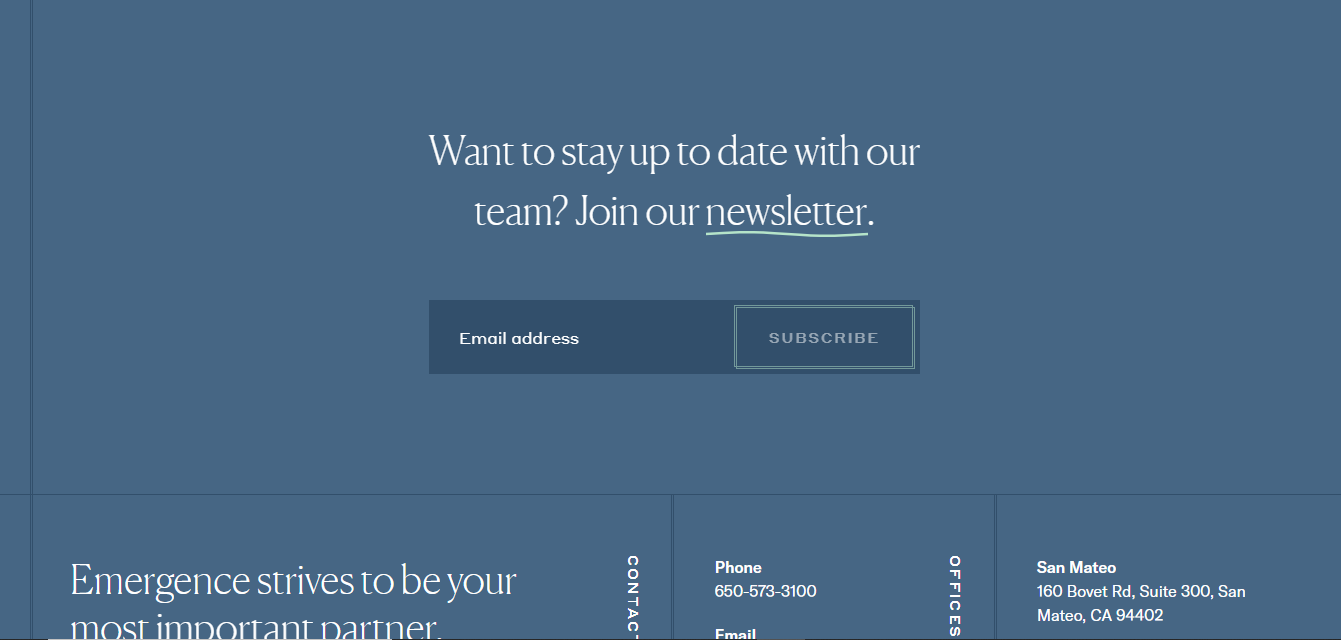 When you sign up for their Monthly newsletter, and you start to read it; you just see another opportunity to help the founders and their respective companies to spread the word about it, their products and news: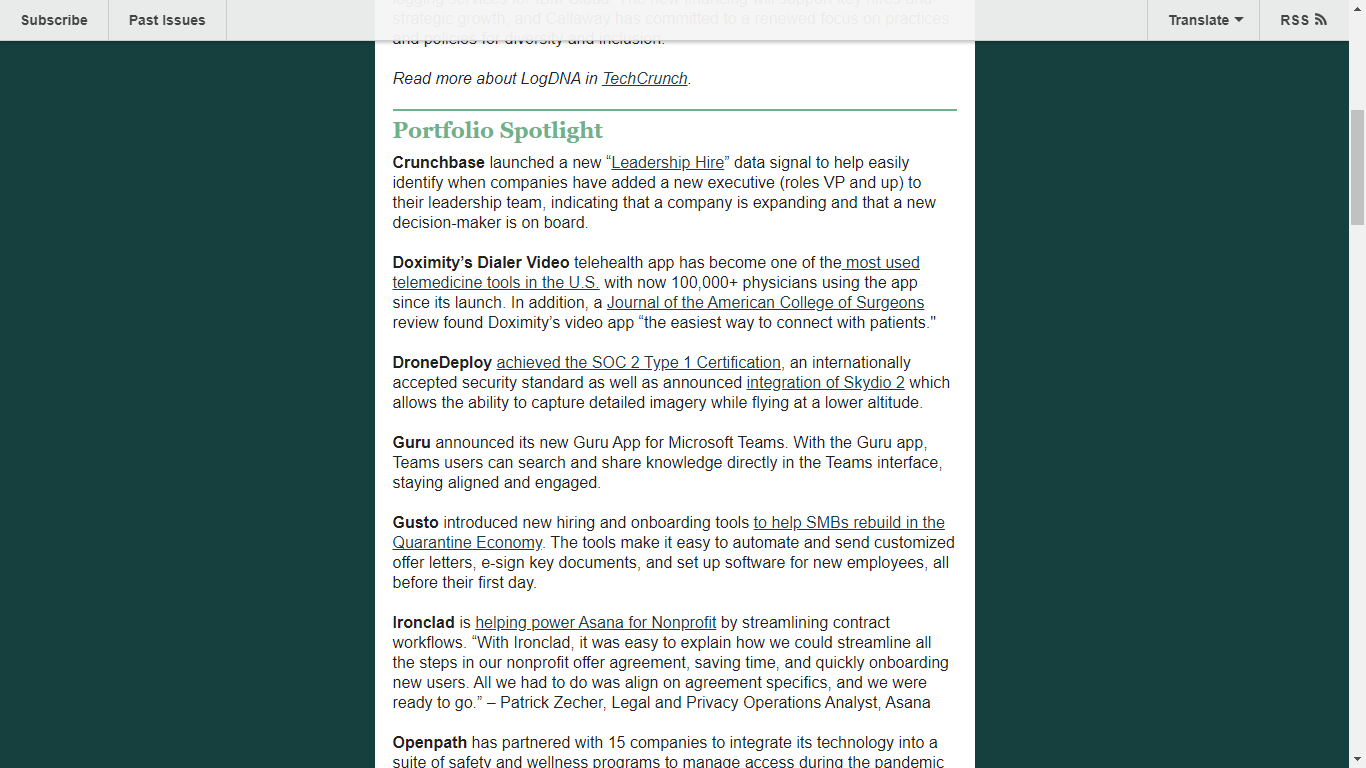 The core idea behind this? Email still matters as a Marketing channel, and Emergence is using this to help the companies to spread the word. You never know if this email reaches a possible deal for one of them.
The Emergence CEO Summit: An event to embrace Founder to Founder Learning
This annual event was created by Emergence Capital to help every founder of their portfolio to learn the nuances of company scaling, hiring, sales and more challenging topics from other successful entrepreneurs inside Emergence Capital's ecosystem of companies.
I truly believe that this kind of events are incredibly helpful for them, because you can ask directly to "other people who has walked the talk"; true entrepreneurs who has scaled their companies from zero to Billions like Peter Gassner, Eric Yuan, and many more.
There are some of the videos public in the Emergence's website.
One of my favorite ones is part of the post called "Category design is what creates legendary companies", written by Christopher Lochhead, a well known Marketing executive, co-author of the Play Bigger book, and host of the podcasts Lochhead on Marketing and Follow Your Different.
One of the reasons I admire the Emergence Team is because they share my belief that the companies and people who make the biggest difference do so by design—they don't create more of the same. What legendary companies—such as Apple, Salesforce, Tesla—do is design a whole new category and open the world up to a new way of thinking.
Emergence's Rhetoric is Everywhere with the Same Message
When members of the firm chat openly about their investments or the topics they are interested in; they have a single core message everywhere.
Two examples of this are the participations of Jason Green in the SaaStr events. Emergence is well known as a SaaS investor, and Jason makes this clear in every way:
Or using the same phrase of Category Creation, Viviana Faga made an incredible interview in the CMO Conversations Podcast from Drift:
The Results of This Outstanding Work in Content Marketing
The results are very simple but powerful: When a SaaS founder wants to know more about how to make a good pitch presentation, they take everything from The Emergence Secret Playbook, and you think for a moment; its opportunity to be funded is just one email way: joe@emcap.com or hello@emcap.com.
Or when they want to revamp their Enterprise Sales process in the normal reality with COVID-19, they could take everything shared by Doug Landis about this topic. And again: the funding is just one email or a Tweet away.
Emergence Capital is simply making easier and easier for SaaS founders to chat with them for the incredible pack of insights they have shared in their website.
That's why a highly targeted Content Marketing strategy focused to solve Enterprise entrepreneurs's doubts is paying off.
Well done, Caitlin and the whole Emergence's team for this work.