On May 15th, 2017; Amazon celebrated 20 years as a listed company at NASDAQ, and Amazon's Chief Financial Officer Brian Olsavsky came to ring the bell in the building:
Amazon has become in a global powerful juggernaut with tentacles in almost everything related to e-commerce, logistics, and more field who grow every day.
That's one of the reasons why Brad Stone named his book The Everything Store.
But one of the core drivers of the large pile of cash that Amazon has today is Amazon Web Services.
The first post of AWS was written by Jeff Barr (Chief Evangelist for AWS) on November 9th, 2004:
Welcome to the Amazon Web Services blog.
This blog is maintained by the Amazon Web Services Developer Relations Team. We plan to provide you with useful information about AWS, products built with AWS, web services development tools, interviews with successful AWS developers,case studies, and information about the web services industry.
We are very interested in your comments and your feedback, and we hope you will take advantage of the commenting feature of this blog.
Hosting for this blog was provided by Ben Trott of Six Apart. Thanks, Ben!
And the rest is history.
So, I was chatting with my former boss about the power of AWS today, and how it become in a $Billion business for Amazon. In my former and current companies, we are big users of many of the services of AWS, especially in the Big Data space (I'm working now as a Cloud Data Engineer at Grupo Intercorp).
We talked about Amazon Web Services and its fierce rivals: Google Cloud Platform, Microsoft Azure, Alibaba Cloud, Baidu Cloud and Tencent Cloud Services.
I've been always interested in Chinese Tech companies; mainly for its incredible ability to build massive businesses and then make them independent companies in the form of spin-offs.
Tencent Holdings and Ping An Group are experts on this strategy. That's why both companies are two of the 6 Chinese Tech companies to invest in my little e-book here.
Thinking in the same strategy, I was thinking deeply about this:
What would  happen if Amazon make Amazon Web Services a spin-off and become it in a public company?
This is not a bad idea. After all, AWS generates billion of dollars for Amazon. We don't know the profit margins of the segment but it could be a very promising IPO if Amazon decides to do this.
This is an idea that many others have talked about it:
I totally agree with Prof Galloway: AWS should be an independent company.
Let's analyze the financial power behind AWS and Amazon first
AWS was officially launched in 2004, but the core services like S3 and EC2 were launched in 2006, so I will use the financial release made in April 25th, 2006 as a starting point to analyze how much AWS has contributed to this date for Amazon.
To acomplish this task, I had to read every financial release from 2006 to the date. Not an easy task, but it had to be done in that way.
The first thing I noted was that Amazon started to release financial information about Amazon Web Services as a segment in 2015 when Jeff Bezos declared the following statement:
"Amazon Web Services is a $5 billion business and still growing fast — in fact it's accelerating.
Born a decade ago, AWS is a good example of how we approach ideas and risk-taking at Amazon. We strive to focus relentlessly on the customer, innovate rapidly, and drive operational excellence. We manage by two seemingly contradictory traits: impatience to deliver faster and a willingness to think long term. We are so grateful to our AWS customers and remain dedicated to inventing on their behalf."
Then, I compiled every financial metric related to AWS in a single dataset, and I began to analyze it closely: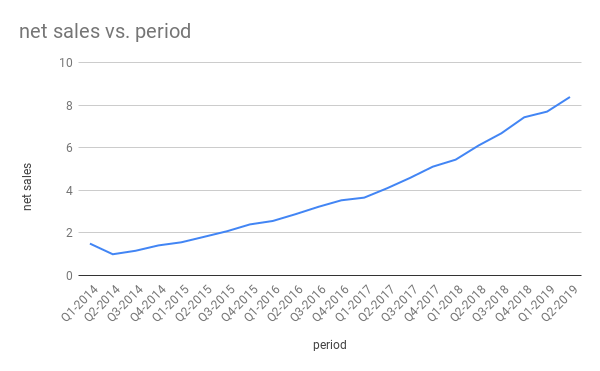 These were the highlights I found reading this data:
From Q1 2014 to date (September 2019), Amazon Web Services has contributed $38.35 Billion in Net Sales, representing a 26.7% from the Total of Net Sales in the period ($143,6 Billion)
The Average Net Sales per Quarter for this period (Q1 2014 to September 2019) has been $3.84 Billion
So, if we just make a quick valuation of the business today; just making a multiple of 10 of the net sales generated by AWS in the last quarter (Q2 2019), the business's valuation would be $83,8 Billion, and if we just increase that multiple by 20x sales; the business would be valued at $167.6 Billion.
This means that if Amazon decides to spin-off AWS as an independent company, they just have in hands a public business of more than $160 Billion. With this valuation, AWS's IPO would become in one of the biggest public debutes of all times.  
AWS's scale is huge in terms of employees too
According to LinkedIn, there are more than 47,000 people working at AWS directly: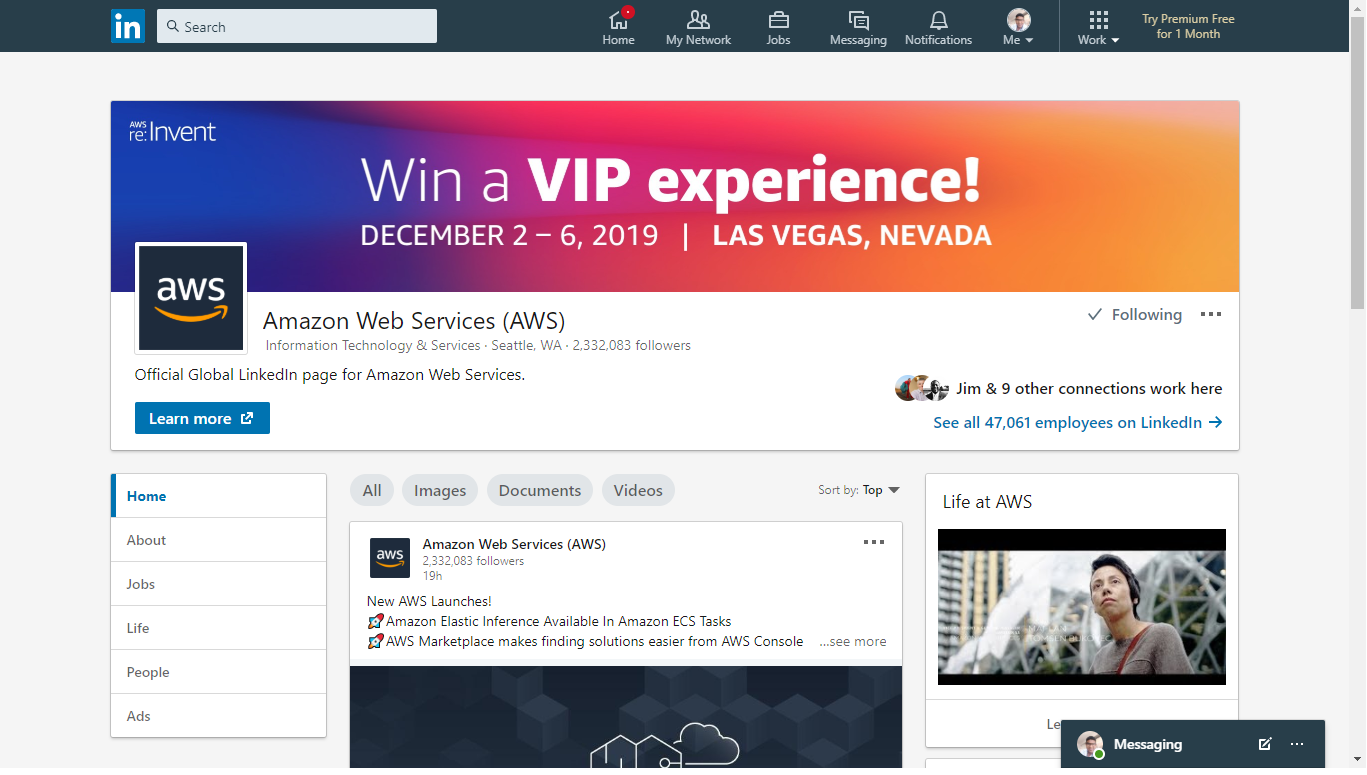 And according to Amazon Jobs page, there are more 14 teams and 11914 open roles for AWS (September, 29th, 2019):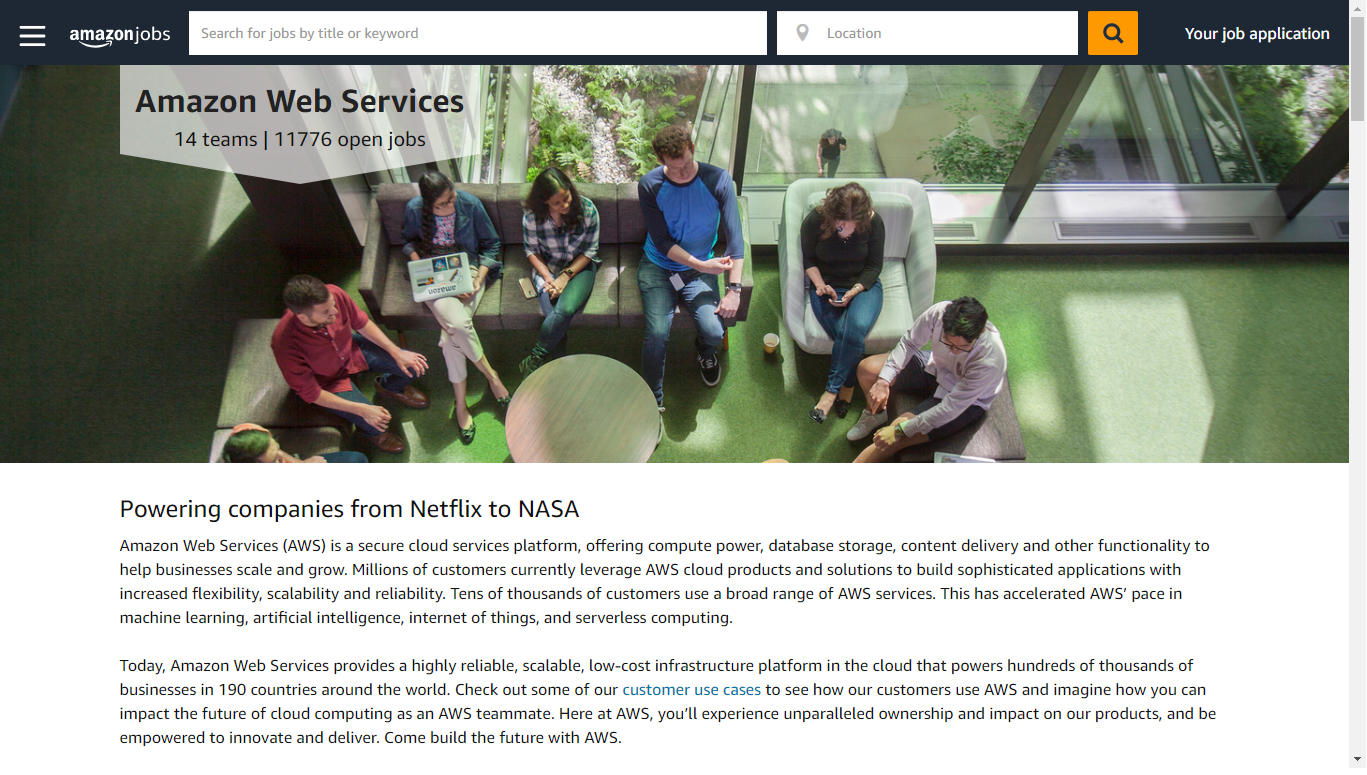 The "Powered by AWS" Economy
There are many organizations out there who has uses the scale and services of AWS to build multimillionary businesses. Thousands of companies and startups are part of this movement. Welcome to the "AWS Economy".
Here are just 4 examples of this
Twilio: Building a multibillion business on top of AWS
Jeff Lawson and his team has created an incredible business on top of AWS, which now generates $1Billion in Annual Revenue Run Rate.
This is not an easy task to accomplish; and this proves why AWS is so valuable as a partner for startups:
Twilio's growth has been astronomic that even Amazon was one of the investors in its Series E of $130 Million:
In addition, we're privileged that Amazon.com and Salesforce were also significant participants in the round. We've had great relationships with Amazon and Salesforce, leaders in laaS and SaaS respectively, and now we have the opportunity to deepen the relationship between our companies.  I truly admire these companies and their leaders for what they've accomplished in changing the landscape of the tech industry for the better. I look forward to working more closely with them as we continue to build Twilio into a great company together.
Snowflake: A Datawarehouse built for the Cloud
Snowflake is one of those companies out there which the core product is so good which is competing directly with Amazon on its own Big Data game. Snowflake has developed a daatwarehouse built specifically for the Cloud, using a patented architecture.
And it seems it's working because the company is valued at $3,5Billion after a big raising round of $450 Million led by Sequoia Capital, and has tripled revuenue YoY, representing a 257% increase.
It wouldn't be strange if this company is swallowed by Amazon or Google Cloud business in the near future, but another possible path is to become a public company with the recent appointment of Frank Slootman as Chairman and CEO, who was the Chairman and CEO at ServiceNow; a company who led from an organization with less tham $100 Million in revenue to a very successful IPO and $1.4 Billion between 2011 and 2017.
Webflow: Leading the #NoCode movement
This company is part of the new trend known as #NoCode movement, focused on the website development without actually coding, just with an online designer. Vlad Magdalin and his crew packed an incredible platform which is being used by huge brands like Under Armor, Zendesk, Intuit, Dell, Adobe, HelloSign and many more.
They have cemented an incredible path from just a solo freelancer to a recent raising of $72 Million led by Accel.
They have accomplished all this because they have used the efficiency of many of AWS services to bring this incredible platform to life.
If you want to know more about Webflow, you should watch this Q&A with Vlad here:
Or if you prefer, you can watch the interview that Jason Calanis did to Vlad here:
If you don't live under a rock, you should know the success of the game called Fornite. The company behind this massive game is Epic Games, and they are some of the other global gaming companies which relies on AWS to power its operations.
Chris Dyl (General Manage of Online Services at Epic Games) gave a very interesting talk about how Epic Games uses AWS today:
There are many organizations out there like Twilio, Snowflake, WebFlow and Epic Games using Amazon Web Services to scale their respective businesses, so the "Powered By AWS" economy is growing and growing every day.
Conclusions
The conclusions are very simple: Amazon doesn't need cash, but if they wanted: they could conduct one of the biggest IPOs in history if they decide to make AWS a public company. Jeff, it's not a bad idea right?