iOS 5.1 is vulnerable to Adress Bar Spoofing attack
David Viera-Kurtz, of MayorSecurity has discovered a new form to attack iOS 5.1 based devices, where the address bar of Apple Webkit/534.46 can be changed based on the use of the JavaScript function "window.open". This failure could be used for a remote attacker to change the address bar, and in that way to cheet to the user showing like the current page by a different URL actually visited: in short to give some realist phishing attacks.
Viera-Kurtz has published a concept test which he shows this failure, and any user that visit with his terminal, the http://www.majorsecurity.net/safari-514-ios51-advisory.php URL, wil see that the URL can actually appears in the Safari browser is http://www.apple.com.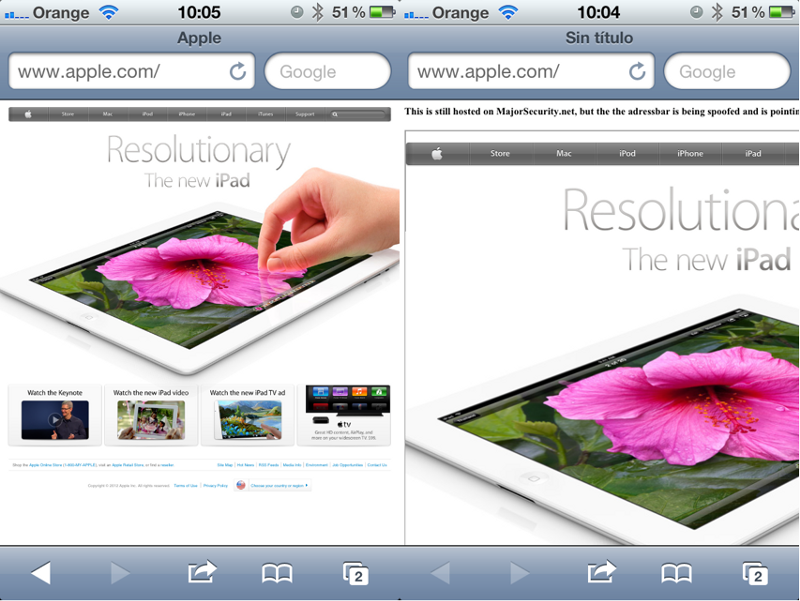 There is not a avalaible patch for this, so, It's recommended that you don't visit important URLs with the Safari browser in iOS 5.1 throught of a link that is not trusted.
Happy Hacking !!!
Marcos Ortiz Valmaseda
Data Engineer (UCI)
Linkedin's profile
Big fan of Big Data, NoSQL and PostgreSQL
10mo. ANIVERSARIO DE LA CREACION DE LA UNIVERSIDAD DE LAS CIENCIAS INFORMATICAS… 
CONECTADOS AL FUTURO, CONECTADOS A LA REVOLUCION
http://www.uci.cu 
http://www.facebook.com/universidad.uci 
http://www.flickr.com/photos/universidad_uci