I always have a latent idea inside my head:
How I can help more Small Business owners to succeed online?
How can I help them to thrive in the Internet world?

This crazy year 2020 has disrupted a lot of industries and businesses, and many SMEs have had to reinvent themselves in order to survive.

Many of them have transitioned their respective businesses to the online world with the help of tools like Shopify, Bench, Namecheap and more.

But with all these new things, there are new problems and  new headaches with it. And one of the toughest problems today for Small Businesses in the online world is getting worse every year: Online Fraud.

Let's discuss two scaring statistics here:


60 Percent Of Small Companies Close Within 6 Months Of Being Hacked

In fact, 60 percent of small companies go out of business within six months of falling victim to a data breach or cyber attack. With both the financial security and future of your business on the line, it's crucial for organizations of all sizes to have measures in place to monitor suspicious network activity.

The second number I wanted to share is even scarier:

Cyber crime and payment fraud cost businesses an estimated $6 trillion in 2019.

As a Small Business owner, you should be worried about these staggering numbers and start to take countermeasures for all this.
Some of my good friends asked me several times about the simplest way to protect hard earned money as a Small Business owner, and potentially save a lot of money in the process.
The answer is here: It's called Ramp.
Enter Ramp: The only corporate card that strengthens your finances
Yes, you are not crazy, I'm not writing this to deceive you, this is the truth: Ramp is a corporate credit card which actually helps you to spend less money.

Here's the description of the company, according to the members of it at AngelList:
Ramp is building the modern financial stack that enables companies to accelerate growth without compromising on their finances.
We're on a mission to uncover and eliminate waste before it can undermine our customer's goals and make financial rigor easy by enabling real-time visibility and understanding of every dollar spent.
Ramp was founded by the same team who built, scaled, and sold Paribus to Capital One, enabling automated savings on online purchases and putting over $100 million back in consumers' pockets every year.
We are backed by Founders Fund, Coatue, and Box Group, and more than 50 founders of leading companies.
Yes, Ramp is very well funded until today. According to Crunchbase's data, they have raised $55 Million from Founders Fund, Coatue and many more Venture Capital firms.

And if you read some of the reviews of the product, you will see that they are on the right track.
For example, Robin Saks Frankel wrote this at Forbes about the product:

The Ramp Corporate Card could be a dream come true for an overwhelmed small business. The charge card earns 1.5% cash back on all spending and offers a robust suite of bookkeeping-related benefits that goes beyond what a traditional business credit card typically offers. The card doesn't charge an annual fee for businesses with fewer than 50 employees, but larger companies will be on the hook for a monthly fee.

Or you read the reviews at G2.com about the product, you feel that you are in front of a unique product: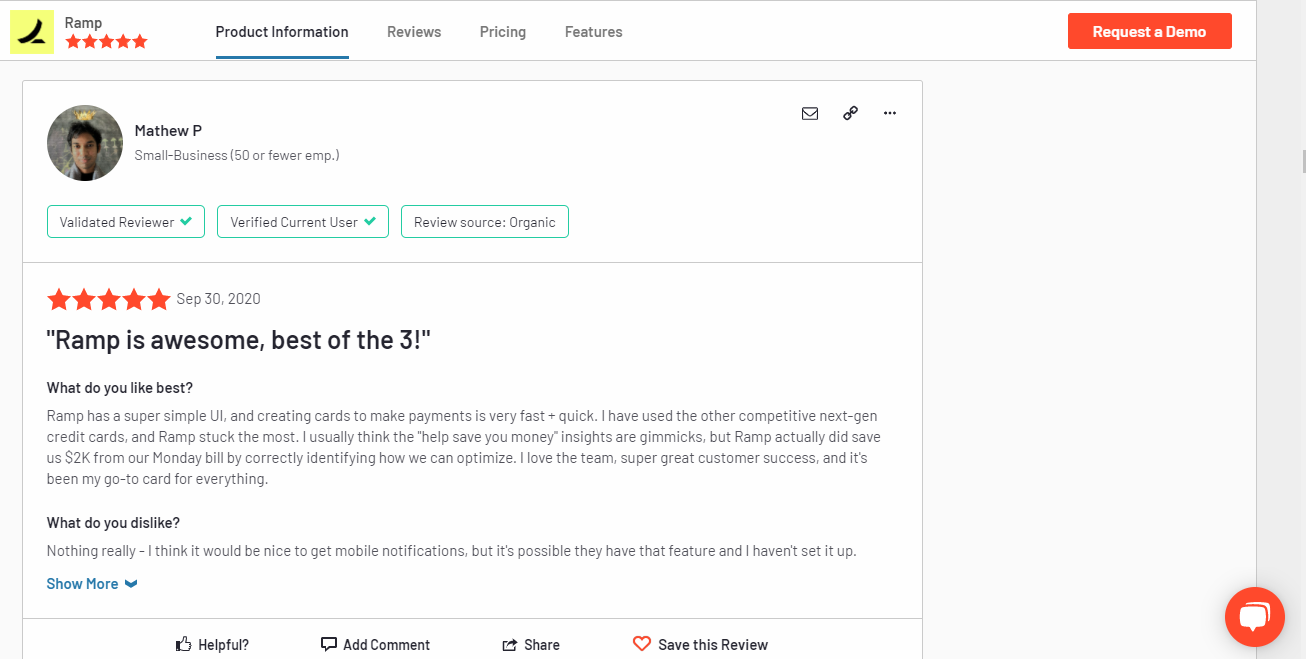 There are more rewards for using a Ramp credit card, but one of my favorite ones is actually working with another of my favorite teams out there: MainStreet, which could help to save even more money for your business in the form of tax credits:

If you use Ramp, you could save 25% off tax credits processing fees with MainStreet. What are you waiting for?

How Ramp can protect you from online scams and credit card frauds online

But, you should be wondering, how Ramp could help you to protect your business better when we make online purchases?
Ramp's commercial credit card has a lot of features for your business, but there are two key features I want to highlight here: Unlimited Virtual card issuing and Ultimate Visibility.

Why can these two features can help you to fight back credit card fraud and online fraud? It's very simple, actually.
With unlimited virtual card issuing, you can generate many virtual credits cards for your business and your employees, and actually give them a built-in spend limit.
This means, you don't have to worry for a surprising charge in your account or the credit card of an employee; because you have put a limit to it; and with another feature of instant visibility; you can actually see what's happening in real-time.
There are so many benefits of using virtual credit cards today, but one of the top ones is simple: they can't be stolen because they are not physical cards, and if you see an unexpected behaviour with one of those virtual cards, you simply can cancel instantly.

The Ramp's team highlighted some of the benefits in this detailed post here.

But there is more: If you actually want a physical card, you get a beautiful white Ramp Visa Commercial Credit Card: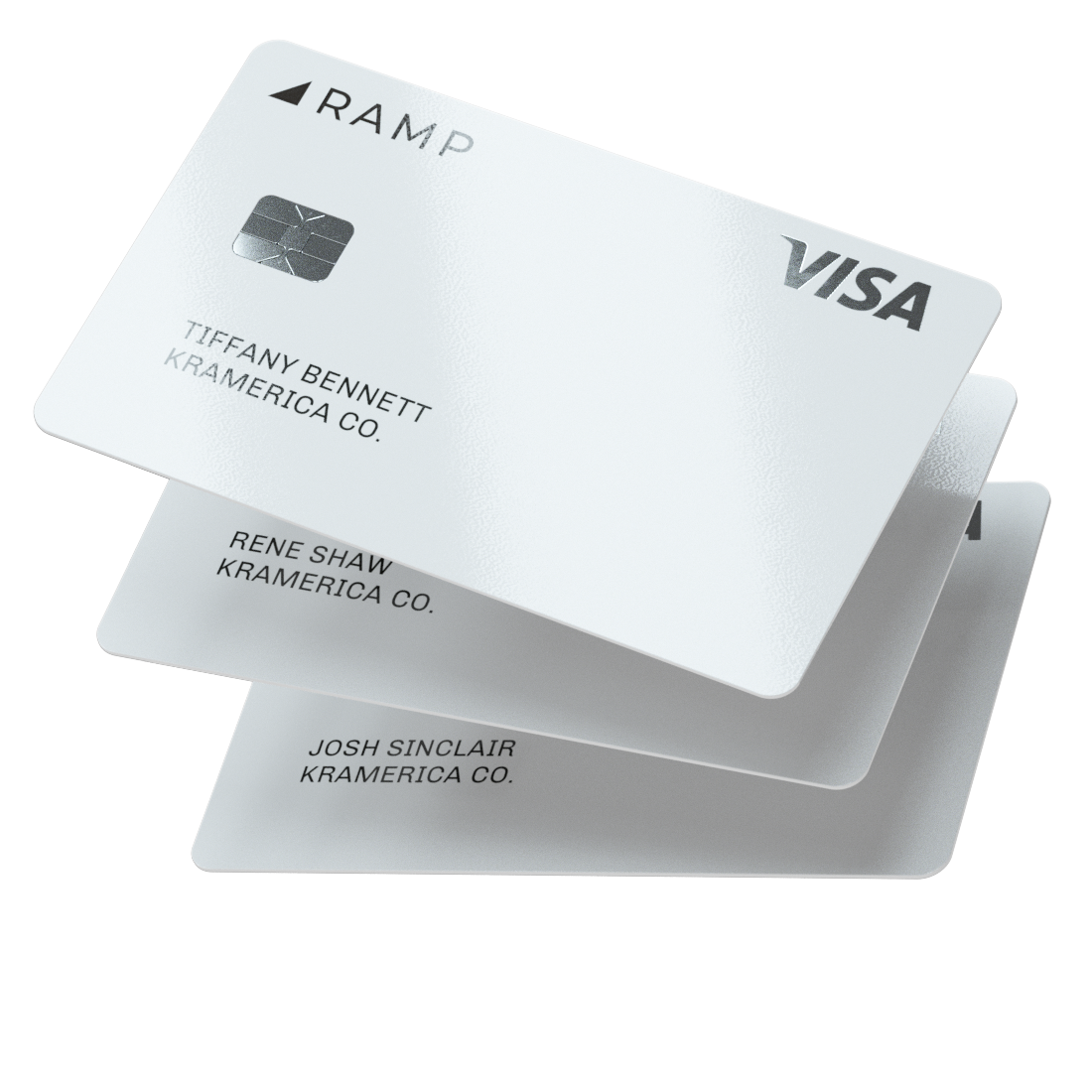 And this is another benefit you can simply ignore: Visa's fraud protection infrastructure is so good that you truly know you are in a giant's shoulders.

And if you are still wondering about it, Ramp is actively hiring people for their Risk team to keep improving the tools to fight fraudsters out there:

Believe me when I say this: If I was in the United States, this could be a dream job for myself. Why? They are using some of my favorite tools: Flask (Python), PostgreSQL, Amazon Web Services, and many more tech gems.

So, apply today, don't wait any second to be part of Ramp. I strongly believe they will have a terrific 2021. Mark my words.

BTW, if you want to know more about it, I'm encourage you to watch this interview with Geoff Charles (Head of Product at Ramp) and TK Kong (Product Design at Ramp):
Conclusions
There are many ways to protect your business from online fraud, but I have not found a simpler way than Ramp.
And if that comes with many other rewards, it's time to sign up today.
So, if you need help with this from a Ramp representative, you can have a conversation with Max Freeman on Twitter or simply send him an email: max@ramp.com.

I truly believe he can help you better than myself to understand all the benefits behind Ramp's credit card.

You can thank me later. I just want to help you to succeed.
Out…